GOP Makes Fun Of RBG With Offensive Shirt Featuring Trump's Supreme Court Pick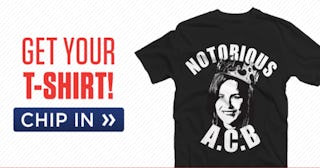 Twitter/The Senate Majority
The GOP's 'Notorious A.C.B.' shirt rips of the moniker given to Ruth Bader Ginsberg for her life of service towards equal rights
Republican grassroots fundraising group WinRed (which is endorsed by the Republican National Committee) created the tackiest shirts to celebrate the nomination of conservative judge Amy Coney Barrett by making fun of Ruth Bader Ginsberg's legacy in the Supreme Court. If President Trump's recent Supreme Court nomination of the anti-abortion and conservative judge wasn't distressing enough, these "special edition" shirts show Barrett as the "Notorious A.C.B." — a play on "Notorious R.B.G," a moniker given to Ginsberg during her life.
The National Republican Senatorial Committee (NRSC), which is the campaign arm for the Senate GOP, tweeted out a link to the shirt and a request for a donation in order to receive it. "LIMITED EDITION: Show your support for Pres. Trump's Supreme Court nominee, Judge Amy Coney Barrett, with your very own Notorious A.C.B. t-shirt!" the tweet read. "Claim yours here."
Ginsberg was often referred to as the "Notorious R.B.G.," a nickname inspired by rap legend "Notorious B.I.G." A book written by Irin Carmon and Shana Knizhnik called, Notorious RBG: The Life and Times of Ruth Bader Ginsburg, received much praise as an ode to Ginsberg, who spent her life fighting for equal rights.
Critics blasted the "Notorious A.C.B." T-shirt for ripping off a well-earned title for Ginsberg and doing so just nine days after her death.
President Donald Trump nominated Amy Coney Barrett, a conservative federal appeals court judge, in a ceremony at the White House yesterday and it's already setting off a fierce battle in the Senate over her confirmation. In his nomination, Trump called Barrett a woman of "towering intellect" and "unyielding loyalty to the Constitution" who would rule "based solely on the fair reading of the law."
Senate Judiciary Chairman Lindsey Graham said that Barrett's confirmation hearing would begin Monday, October 12, according to a statement released Saturday night.
Senator Marco Rubio's name was also was trending on Twitter on early Sunday after his campaign's Twitter account posted a link to another WinRed page asking them to purchase a different "Notorious A.C.B." shirt for $30.
"In support of Amy Coney Barrett, we have made a shirt that you can purchase! The shirts are LIMITED, so get yours while you still can! #ACB4SUPREMECOURT," the campaign page tweeted.
In addition to her stance on abortion, her opposition has also pointed out that her faith and previous rulings may also impact the Affordable Care Act and future LBGTQ+ rights. If the Senate pushes through Barrett, this will be the third justice picked by Trump during his term as president.
Despite the abhorrent nature of the shirts, flags across the U.S. continue to fly at half-staff for the real Notorious R.B.G.