The Notre Dame Cathedral In Paris Is Engulfed In Flames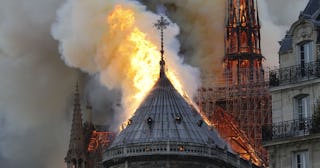 Image via FRANCOIS GUILLOT/Getty
The Notre Dame Cathedral is on fire and the footage is horrifying
A fire broke out in Paris' historic Cathedral of Notre-Dame today causing part of the structure's spire to break off as the flames spread across the roof. Horrified onlookers are posting video footage of the 12th and 13th century church engulfed in flames.
Bystanders, tourists, and journalists alike are taking to social media to share their shock and harrowing video of the Cathedral burning and the spire falling.
According to The New York Times, Cathedral spokesperson André Finot says there's no indication yet of any injuries or deaths from the fire. The cause of the fire is currently unknown. Finot says the fire alarm went off at 6:30 PM Paris time and the building was evacuated. Witnesses state that they first saw a bit of smoke billowing upward before the roof before the smoke turned gray and black with flames following soon after. The Times reports that tourists and residents have gathered along the Seine river to watch as the fire spread and the spire fell.
Paris' Mayor Anne Hidalgo took to Twitter with an update. "A terrible fire is underway at Notre-Dame Cathedral in Paris. They @PompiersParis are trying to control the flames. We are mobilized on site in close connection with the @dioceseParis. I invite each and every one to respect the perimeter of security."
There's also plans underway to preserve artwork and relics that haven't yet been lost to the fire.
According to NBC News, the structure is currently undergoing $6.8 million in extensive renovations and the roof was covered in scaffolding. Paris police officers are warning people to stay away from the church, which sees around 13 million visitors each year. Angelique de Almeida told The Times of the city's heartbreak. "We are going to lose her, everything is up in flames," she said. "We lose this, we lose Paris. It is apocalyptic. And this is the Holy Week."
Pierre-Eric Trimovillas echoed similar sentiments. "It hurts to watch this. The cathedral is the symbol, the heart of Paris," he said. Trimovillas told The Times that bystanders gasped and cried when the spire fell. "Paris is beheaded," he said.
"Everything is burning," a spokesperson told The Daily Beast, "nothing will remain from the frame."