Clinical Trials Show Novavax COVID Vaccine Has 90% Efficacy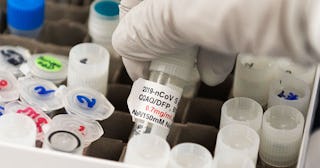 ANDREW CABALLERO-REYNOLDS/Getty
Novavax gives the U.S. another strong vaccine candidate, but at this point, other parts of the world need it more
As the U.S. strives for President Joe Biden's goal to vaccinate 70 percent of the population by July 4, rates of people getting their COVID shots are actually slowing in the country. At the same time, Novavax, another pharmaceutical company that received funding from the U.S. government to develop a vaccine against COVID, has released extremely promising results from a large-scale clinical trial. But with fewer and fewer people trying to get shots in the U.S., it's possible that Novavax's doses will simply be needed more elsewhere.
Novavax completed a 29,960-person trial in the U.S. and Mexico and has announced that the trial shows efficacy rates of around 90.4 percent for its vaccine — similar to the shots made by Pfizer and Moderna that have been largely responsible for a huge drop in U.S. cases and deaths from the coronavirus. Novavax's shot was also shown to be 100 percent effective at preventing moderate or severe disease from COVID-19 in trial participants.
But at this point, the U.S. has more coronavirus vaccines than it needs. The need is much higher in poorer countries, where lack of access to vaccines has allowed the virus to continue spreading out of control. India has suffered from a severe surge in virus cases in recent months, and South America is currently leading the world in cases and deaths. In light of all this, Novavax told the New York Times that it may not even apply for emergency use authorization from the FDA, but might instead seek authorization for its vaccine in other parts of the world. Currently, the company plans to seek approval in Britain, the European Union, India and South Korea.
Meanwhile, Novavax may seek full approval from the FDA, a process that takes several more months than emergency use authorization. That will mean the shot could be fully approved for use in the U.S. by the fall, when colleges will be requiring their students who return to campuses to receive FDA-approved shots before doing so.
There's also promising evidence that shows that the protein-based technology Novavax used to develop its vaccine could offer strong protection against virus variants, especially when combined with previous doses of another COVID vaccine. That's great news as the world eyes concerning variants that are circulating, some with mutations that make them better able to skirt the protection offered by vaccines currently in use.