14 Novelty Tees For Adults
by Team Scary Mommy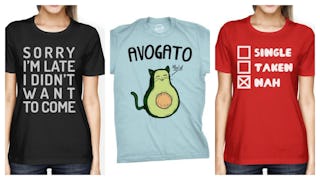 WALMART
What do you buy the guy/girl who has everything? Or for a grab bag or white elephant exchange? Or for that new mom friend you don't know too well, but you know she'll have something for you on Christmas? A novelty tee, obviously! There are some great choices on this list, from feminist girl power messages to tees about tacos (because everyone loves tacos).
For the cat AND avocado lover in your life, this t-shirt would make an adorable gift.
We all have those days when we cannot people and only want to hang out with our four-legged friends. This shirt works for just about any dog lover with an introverted side.
Know a guy who loves science and thinks he's pretty gnarly? How about this clever "Ironman" tee?
For that person who may be moving on in life—from a former home, job, or relationship—and needs to celebrate the change, this t-shirt is perfect.
Everyone loves a good retro tee. This one's the perfect gift for your bestie—the Thelma to your Louise, the Monica to your Rachel, or the Laverne to your Shirley.
You know you've got a mental list of people you are just waiting for karma to find. So while you're waiting, at least you can wear this shirt.
Let everyone know how much you are over their crap with this beautifully honest tee. (Or this one, which is equally perfect.)
Same. And it's not a long jump from 1 to 2, FYI. (You know you can relate to this shirt.)
Do you know a mom who's not a hustler? Nope. So celebrate her awesomeness with this fab mother hustler tee.
This honest t-shirt is an introvert's dream. (And also asks the follow up question, can I go home now?)
This one-word tee says it all. Don't. Fuck. With. Me.
We really are, friends. And not just because we wipe it up all day. Who wouldn't love this shirt?
This fun t-shirt is great choice for a taco-lover to wear on or Taco Tuesday, or really any day at all, TBH.
When you're so fucking tired of this question and really just want that sketchy bar guy to leave you alone, you can wear this amazing t-shirt.
So get your shopping on, folks, and grab a clever tee for your partner, your sister, your bestie, or yourself. These shirts are sure to be a hit on Christmas morning and send some very important messages about how incredibly awesome women are, and also, the importance of tacos.
We are a participant in the Walmart.com Affiliate Program and may earn fees by linking to Walmart.com and affiliated sites.
This article was originally published on