Slow Your Roll, Christmas Fanatics — It Is Still. Freaking. Fall
by Katie Cloyd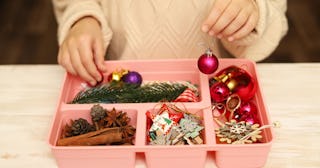 TatyanaMago/Shutterstock
It's fall, y'all. Did you hear that? It is STILL fall, y'all. I know that November first is approaching, and that means some of you are about to declare it Christmas up in here. You're already dreaming about tossing your gourds and sunflowers aside in favor of pine cones and poinsettias. In a few short days, you're going to be out here replacing your bales of straw covered in a tasteful pumpkin assortment with lighted "Santa Stop Here!" signs and decorative reindeer. You've probably got a reversible scarecrow/snowman décor piece, and you're ready to flip that sucker over. Your acorn wreath is about to be shoved into a tote, and a flocked evergreen situation will be on the hook by lunchtime on November first. You're all, "Buh-bye fall, hello CHRISTMAS!"
Well, I do realize that I can't actually tell you what to do because you're a grown person and you make your own rules. However, I've enjoyed 37 years of life so far and in that time, no amount of adversity has ever actually stopped me from trying to plead my case and attempting to change a mind or two, so I'm going to give it a go.
YOU'RE JUMPING THE GUN, EARLY-CHRISTMAS FOLKS.
Why in the world would you want to rush autumn out the door on November first when everyone knows that it is objectively the best season? I am literally baffled by anyone who doesn't agree. The weather is glorious. The décor is adorable. The fall colors? Chef's kiss. Gorgeous.
We have just unpacked our rusts and mustards and olive greens and navy blues. Our open cardigans have barely aired out. Our knee-high boots are just getting warmed up. We have barely gotten to enjoy bonfire season. Pumpkin patches aren't even closed yet, people. We have Four. More. Weeks.
Thanksgiving is a thing, thank you very much.
I mean, I know that the ridiculous, offensive story we learned in the old days about "pilgrims and Indians" gleefully feasting beside one another in perfect harmony is some bullshit. We definitely need to scrub those lessons from our memories and reeducate ourselves — then pass correct info on to our kids.
But spending an entire day focused on gratitude? That's still a beautiful idea. Can't we have turkey and give thanks and wear our warm colors one more time before we put away the cornucopias and bust out the advent calendars?
When you put out your pumpkins and woodland creatures and oak leaf garlands in September, you should really be committing to leaving them up through November.
Not until November first, but THROUGH it. Almost all the way through—at least until the fourth Thursday.
I will admit that much of my opinion on ushering in Christmas on November first was formulated during my childhood. I have never been in a hurry to skip to December—November is my favorite month! My birthday is in the last week of November and every few years, it falls on Thanksgiving. It sometimes gets kind of lost in the shuffle of the holiday weekend, so admittedly, throwing YET ANOTHER holiday on top of it early is not a plan I can endorse.
Obviously, this rule has exceptions.
As a matter of fact, I broke this rule myself last year because there was a pandemic, no vaccine, no reliable treatment, and none of the usual holiday traditions. I was grasping at whatever little bits of magic I could muster for my babies. When my son asked to decorate during the second week of November, I said, "I mean, why not, right? It's not like we are having any Thanksgiving company." I was down in the dumps, and my Christmas tree did actually make me feel better. If you are in the midst of some really freaking tough stuff, and your mental health would benefit from an infusion of tinsel and wreaths and the jolly old elf a little early this year, obviously you should ignore me. I'm not the boss of you.
On regular, non-pandemic, low tragedy years, I'm Team No-Christmas-Until-Black-Friday, and that will never change.
I mean, even before Black Friday if you're motivated. If you want to wash the Thanksgiving dishes and immediately hit up the Christmas tree lot, you have my blessing. As soon as you've completed the assignment, feel free to work ahead. Flock your entire life. Get your Clark Griswold on. Cindy Lou Who it up. I love that journey for you.
It's just that my Novembers will always be the last month of my beloved autumn, not a month of bonus Christmas. I know that technically this is just my preference, but I really think I'm right about this one. November first is not the time for Christmas décor. It's just too dang early.
If it helps, I make up for it by being totally okay with leaving Christmas décor up until the end of January. Heck, I don't care when you take it down, really. Have February, too if you want it. I'm not a grinch.
I just have really big opinions about November.
This article was originally published on