The Hit 'Go The F*ck To Sleep' Book Is Getting A Sequel
by Julie Scagell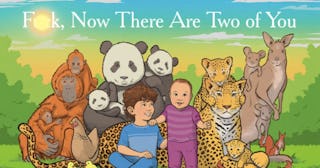 Akashic Books
The much-anticipated Fuck, Now There Are Two of You hits shelves in October
If you loved the children's book for parents called Go the Fuck To Sleep and have more than one kid, your day is about to be made. The hilarious author is back with a sequel aptly titled, "Fuck, Now There Are Two of You," and it's everything you'd thought it would be and more.
In 2011, author and humorist Adam Mansbach released the lullaby of all lullabys for exhausted parents everywhere. Go the Fuck To Sleep was more of a mantra than a book with lines like, "The eagles who soar through the sky are at rest, and the creatures who crawl, run and creep. I know you're not thirsty. That's bullshit. Stop lying. Lie the fuck down, my darling, and sleep."
Now, he's back and this time his book is "a loving monologue about the new addition to the family, addressed to a big sibling," with lots of "fucks" thrown in for good measure. Fuck, Now There Are Two Of You will be released on October 1, 2019, by Akashic books and will sell for $15.95. The expletive-filled third book "articulates all the fears and frustrations attendant to the simple, math-defying fact that two is a million more kids than one," the book's description reads.
Technically, this is the third book in his "fuck" series. Mansbach released You Have to Fucking Eat, back in 2014 — an ode to the full-contact sport that is trying to get your toddler to eat something.
We are so here for this because every parent of multiple children knows the amount of work that happens when introducing a second child doesn't double, it quadruples. What once was man-to-man coverage is now a zone defense even if you're lucky enough to have a second set of hands because, kids. It shouldn't be infinitely that much more work caring for two, and yet, here we are with a book explaining exactly how fucking hard it is.
At the end of the day — after all the toys are cleaned up, the baths are given, the meals go uneaten and you cave and let them have cereal — what better way to tuck your newest member of the family in than by reading Fuck, Now There Are Two Of You.
This feels like the perfect gift for friends or relatives who are planning to extend their families — perhaps before that decision is made just so they know what they're getting into.
One can only hope that Samuel L. Jackson will do an audio narration of Mansbach's latest book like he did for the first one because you never know how satisfying it is to hear the word "fuck" until Mr. Jackson says it.