NPR's Donations Skyrocket After Trump Insults Them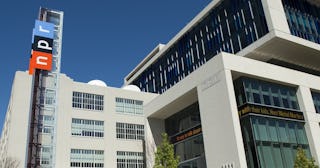 SAUL LOEB/AFP via Getty Images
Donald Trump's lack of love for NPR isn't stopping publicly funded news from thriving in the Fake News Age
Donald Trump has taken aim at a lot of things during his presidency — Muslims, immigrants, the LGBTQ+ community, you get the idea. More recently, though, one of the president's favorite things to try to tear down is NPR — National Public Radio, the publicly funded new organization that brings us shows like "Morning Edition" and "All Things Considered," as well as a healthy number of online news stories published daily.
First, Trump sent a tweet, musing about why an institution like NPR still exists today. Then, in his annual budget request, released to the public last week, he suggested making major cuts to federal funding for the Corporation for Public Broadcasting, ending federal funds for the organization completely by 2023.
Federal funding for public radio only makes up about 1 percent of NPR's overall budget, but still, losing it would be a blow.
"Elimination of federal funding would result in fewer programs, less journalism — especially local journalism — and, eventually, the loss of public radio stations, particularly in rural and economically distressed communities," NPR vice president Mike Riksen told the New York Times. "We are fully engaged with policymakers to ensure a complete understanding of federal funding and its importance to our stations and the public media system."
Despite being in the president's crosshairs, though, donations to NPR have been spiking, especially immediately after Trump says something to disparage the organization. In the days after he sent that tweet, for example, donations to Southern California Public Radio rose 250 percent, while contributions to public station KMUW in Wichita, Kansas saw an immediate 90 percent spike.
Still, donations are a small part of any public radio station's budget. The bulk of their fees comes from corporate sponsorships and fees from affiliate stations. While politically charged spikes in donations to these stations are certainly helpful, they're in less danger than it might appear, even while being actively attacked by the president. Should federal funding for public radio end, NPR won't go away, though many smaller affiliate stations, especially in rural areas, will struggle and may have to close their doors.
It's all the more reason, especially if you live in one of those rural areas, to support your local public radio today. In the age of fake news, we need comprehensive, unbiased news more than ever.