Watch 'Sesame Street' Take Over NPR's Tiny Desk And Try Not To Cry
by Julie Scagell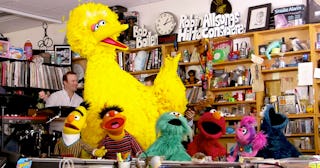 NPR
The 15 minute performance will give you all the feels
If you grew up watching Sesame Street (and really, who didn't?), this video will melt your heart. Big Bird, Bert and Ernie, Rosita, Abby Cadabby, and Cookie Monster, along with some of their famous friends took over NPR's Tiny Desk concert and it's the purest thing you'll see all week.
If you've never heard of NPR's Tiny Desk before, it's a video series of live concerts hosted by NPR Music at the desk of All Songs Considered host Bob Boilen in Washington, D.C. Boilen has had some pretty famous people at his desk, including Dave Matthews, Mac Miller, Florence + The Machine, and George Clinton, but having the cast of Sesame Street in your office is a pretty badass feather in his cap.
The video started out with none other than The Count doing what he does best — counting. He gets rudely and adorably interrupted during his countdown to the show by Cookie Monster asking for a cookie break but quickly gets back on track and introduces the rest of the gang.
The crew sang some of their classics like "The Sesame Street Theme (Sunny Days)", "People In Your Neighborhood," and "What I Am" with all the characters getting their chance to shine. The entire 15-minute performance was performed to a packed audience of parents and kids equally as excited to be in the same room as Big Bird.
Of course, there were some surprise guests including Elmo and Grover, because you simply can't have a party without those two. The concert was a part of Sesame Street's 50th-anniversary festivities, a yearlong celebration of a show that so many generations grew up on; and a place where "everyone counts." We really should be celebrating them every single day for showing us the importance of inclusivity, diversity, compassion, and friendship. They even introduced a new character this year, Karli, who is in foster care.
Boilen was as star-struck as the rest of us, telling NPR, "I'll also say, on a personal note, that this may well have been the hardest-working, most dedicated group of performers I've ever worked with. I'm so proud of these Muppets and so happy to celebrate all that they've meant to the world for these 50 years."
He also teased the performance in an earlier clip where he introduces Elmo to the concept of Tiny Desk and gave viewers a sneak peek at their June 10th show.
Sesame Street has won more awards than anyone else who've played the Tiny Desk, including 11 Grammys and 192 Emmys. Plus, they can bring a smile to anyone's face, I don't care how bad a day you're having. They are educational, silly, and most importantly a joy to watch no matter your age. My only complaint is that Snuffleupagus didn't make an appearance, but I guess he and tiny don't really go hand-in-hand.