NRA Pushing Dangerous New Bill Through Congress: Allows Concealed Carry In Schools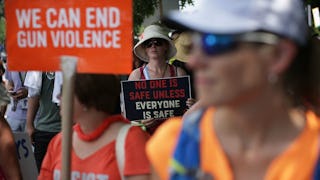 Alex Wong / Getty Images
Earlier this year, when Secretary of Education Betsy DeVos mentioned the possibility of allowing teachers in schools to carry firearms to keep students safe from grizzly bears, her comments were met with almost unified derision. Most of us still cringe at the names of our country's worst school shootings — Columbine and Sandy Hook are still etched in our memories. You would think that most Americans could agree that guns don't necessarily belong in schools.
Yet in a bid to loosen common-sense gun policies, the leadership of the NRA is taking aim at gun-free schools and concealed carry permit laws across the country.
And we should all be concerned.
A dangerous new bill introduced in the House of Representatives, H.R. 38, Concealed Carry Reciprocity Act of 2017, would allow gun owners to carry concealed weapons into schools.
The Concealed Carry Reciprocity Act of 2017 would essentially override the Gun-Free School Zones Act of 1990, which was signed into law by President George H.W. Bush.
Allowing people to concealed carry guns on school property is just one of the many frightening changes this bill envisions.
If passed, it would allow violent criminals, weapons offenders, teenagers, and people with zero firearms training to concealed carry anywhere in the United States.
Currently, laws about who can concealed carry a firearm vary widely from state to state. Some states have relatively stringent requirements for getting a concealed carry permit (including gun safety training, background checks, and minimum age requirements). Other states have very lax laws — or permitless carry — which essentially means that people do not need to register or acquire a permit in order to concealed carry in that state.
This bill (and a version, S.446, which has been introduced in the Senate) would mandate that states recognize concealed carry licenses from all other states, essentially forcing each state to adhere to the weakest gun laws in the nation.
This is not good.
What can you do?
As you would expect, in a recent study from the Pew Research Center, Americans roundly disapprove of this idea — 81% are against allowing people to concealed carry guns without a permit. Yet the House bill currently has 207 sponsors, which shows that many representatives may be more in line with the views of NRA leadership than their own constituents.
As parents, many of us do believe that we should maintain our gun-free school zones. Most of us also believe in things like background checks and that there are certain places guns shouldn't be — like national parks and even bars. All of this is on the line if the Concealed Carry Reciprocity Act passes.
So while you are getting your kids ready to head back to school, take a few minutes and contact your legislators and let them know where you stand on the issues. Legislators will be back in their home districts for the August recess, and that's a perfect time to make your voice heard.
To make it easier, the non-partisan group Everytown for Gun Safety has set up a way for you to connect with your representative. Just text DANGEROUS to 64433. Volunteers from Moms Demand Action for Gun Sense in America will also hand-deliver a postcard to your legislator on your behalf if you fill out an online form here.
With 2018 elections just around the corner, it's important that we let our legislators know that the safety of our families and our kids is non-negotiable, and that they represent us, their constituents, not the reckless policies of gun manufacturers.
This article was originally published on