*NSYNC Holiday Clothing Is Here, And You're Going To Want It All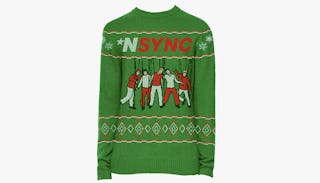 Image via NSYNC.com
It's gonna be sleigh
Get ready for your 90's kid heart to burst with pure joy and your wallet to be totally empty, because *NSYNC has blessed this holiday season with a line of apparel and you're going to want to own all of it.
That's right, God must have spent a little more time on granting our Christmas wishes this year, because as part of a deal with Epic Rights, the band will start selling loungewear, track suits (naturally), home decor and more in 2018. But until then, we have all of this — kitschy items to make every moment of this holiday season special. This I promise you.
First, we have the best ugly sweater to ugly sweater, because as the product description helpfully points out, it's "Ugly, but not so ugly, and actually pretty rad Christmas sweater. Be the talk of the ugly sweater party, in a good way." Don't mind if I do, boys.
No ugly Christmas sweater is complete without some festive pins adorning the collar.
While wondering what the hell's happening with Chris Kirkpatrick's hair in the video for "(God Must Have Spent) A Little More Time On You," you can sport this gloriously festive red crewneck sweatshirt with the band's name emblazoned across the front.
It's gonna be you kicking back by the fire, paging through the latest issue of Teen Beat, wearing this incredible t-shirt…
…while sliding into these toasty slippers...
…and sipping hot cocoa from this extremely collectible matching mug.
They literally thought of everything, you guys.
Even your tree can be decked out in cheesy 90s boy band goodness thanks to this "If I'm Not the Ornament" bulb.
And when the night's drawing to a close and everyone's heading home, you can walk through your neighborhood in search of the tackiest holiday lights while staying warm AF in this "Tearin' Up My Hat" knitted beanie.
Along with this Bye Bye Bye Santa crewneck, featuring the boys naughtily making off with Santa's sleigh.
If this isn't enough to make your season bright, we don't know what is. Order now so you have plenty of time next month to make all your friends jealous with your sweet NSYNC holiday gear.
This article was originally published on