*NSYNC Has A New Houseware Line And You're Gonna Need All Of It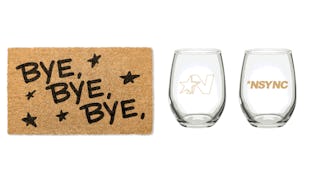 Image via Nsync.com
This *NSYNC houseware line is everything you didn't know you absolutely need
Be still our boyband-loving hearts — *NSYNC has a new merchandise line that includes some must-have houseware items. It's like our pop music-loving adolescence and our Joanna Gaines-loving adulthood have converged and we need all of it.
The band announced the new line of must-have merch on their Instagram page.
https://www.instagram.com/p/BpFJicIA2aU/?taken-by=nsync
Since those of us who grew up loving *NSYNC are, ahem, of-a-certain-age now — the merchandise features several items that fit our loves now: wine glasses, coasters, and onesies. But don't worry, there are still plenty of band shirts and accessories our teenage hearts would have swooned over, too.
Pour me a glass of Chardonnay and turn up the volume because these glasses are perfect for a party of one — me, myself, and I. "Bye, Bye, Bye" to everyone else.
These coffee mugs are the perfect chaser to the wine glasses, really. It's like they know us so well.
This amazing welcome mat can work one of two ways — either you're waving "Bye, Bye, Bye" to those who are leaving your home, or you're deterring everyone from the UPS guy to your annoying neighbor Karen from even attempting to enter. It's up to you to determine!
"It's Gonna Be Poop." OMG. The perfect onesie for getting right to the point. Literally everyone with a baby needs this.
Or perhaps a more traditional concert tee is your style — especially this one, which honors their (arguably) best non-Christmas album, "No Strings Attached."
Looking for something to set your wine glass on, so it doesn't leave Chardonnay condensation all over your farmhouse-style coffee table? Of course you are. So here you go. (Like I said, they know us.)
And of course, there's something for us too. BRB while I put this on and remember softly swaying to "This I Promise You" at my 10th-grade winter dance, sweaty palms and all.
With the holidays quickly approaching, there is no better time to figure out which of these items we need to slap on our shopping lists. Many of them can be pre-ordered now, and are expected to ship no later than November 12th.
Which basically means Merry Christmas, Happy Holidays…to all of us.
This article was originally published on