'NSYNC Is Talking About Reuniting And Our 90's Hearts Can't Take It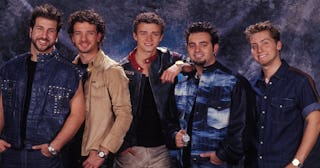 Larry Marano/Getty Images
After Coachella, fans were left wanting more — and they just might get it
Never have we wanted to collectively sing "I Want You Back" more than today because it seems the rumors about 'NSYNC reuniting may not be a rumor at all.
If you didn't catch their surprise performance at Coachella this year during Adriana Grande's set, you missed out. Their reunion was a big hit with the audience when they came on stage during her song, "break up with your girlfriend, i'm bored," which samples "It Makes Me Ill," from the group's hit No Strings Attached album.
The group — minus Justin Timberlake — then tore up the stage with one of their classics, "Tearin' Up My Heart," sending fans into overdrive and leaving everyone ready for a more permanent reunion. And new hit songs. And a worldwide tour.
"We haven't talked about what the next step is but I know we'll sit down during the summer together and figure it out," band member Lance Bass told Variety, adding that the Coachella reunion was "definitely a one-off."
"There are many, many things coming across our desk because of Coachella that we would be stupid not to discuss and look at," he continued. "Coachella was incredible and it was a big moment for 'NSYNC. People are really into nostalgia right now. They're really digging the 90s and early 2000s again, and I think fans just want to feel that innocence and excitement again."
He's not wrong. Everything about the 90's was awesome (in my humble opinion). Fans are losing their collective marbles over a Spice Girls reunion, because who doesn't want to see them back together? If the Spice Girls can find time, 'NSYNC should have to as well. We deserve it.
For those wondering if Timberlake would be up for it, the jury's still out. He missed Coachella when Bass, JC Chasez, Joey Fatone, and Chris Kirkpatrick hit the stage, but gave them a shoutout on Instagram praising their performance.
It seems the group would be open to a reunion even without their lead singer returning. "We have to have the conversation, even without Justin. The whole thing about it is it's really awkward. It's not awkward, but it's weird," Fatone told Us Weekly earlier this year. "People will be like, 'If Justin doesn't do it, the group's not gonna do it.' That wasn't even the case. That's not even the conversation. Everyone's heads are in different times and different places in our lives."
Of course, fans would ideally love all five members back but hey, beggars and all that.