*NSYNC Will Reunite Sometime In The Near Future...This Is NOT A Drill
by Sa'iyda Shabazz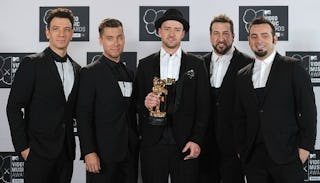 Jamie McCarthy / Getty Images
If you're a woman over the age of 25, there's a good chance that you were an *NSYNC fan. At minimum, you know who they are, know the words to at least three of their songs, and probably know someone who was obsessed with them.
If any of the above statements are true, then you probably also know that the group has been on an official "hiatus" since 2002. In the 15 years since they have been separated, some of them have kept it more low-key than others.
While they have gotten together over the years to celebrate various occasions (most recently for JC Chasez's 40th birthday this past August), the last time we saw them on a national stage together was in August of 2013 when the group reunited to perform at that year's MTV Video Music Awards when Justin Timberlake received his Video Vanguard Award and the others joined him onstage to perform "Girlfriend" and "Bye Bye Bye." He also thanked them in his speech since most of his most worthy MTV moments were during his time with the group. It was epic.
Real die-hard fans (like me) have been sitting on the edge of our seats waiting to see if the guys would ever mount a full comeback, like pretty much all of their peers (cough Backstreet cough) have in the last five years. And while we get teases of it (Justin posted the picture from JC's birthday in the middle of the night and first thing in the morning every news media outlet had written about it), they have also made it clear that there would have to be extremely special circumstances for us to see them all back together again in a "band." Well, my friends, the wait is over, or at least it is according to Lance Bass.
In an interview with Entertainment Tonight, Bass revealed two very important things: 1) the group is planning to release a special edition of their 1998 Christmas album Home for Christmas on vinyl next year for the album's 20th anniversary (20 years?! I feel old), and 2) they will be reuniting in public again sometime this year! Yes, you read that correctly, and yes, I was yelling. Like, I literally yelled and danced around the house like I was back in ninth grade awaiting my new issue of Tiger Beat magazine.
The group is slated to be honored with a star on the Hollywood Walk of Fame (it's about damn time) this year, as soon as they get their lives together and set a date.
Seriously, everyone, please try to contain your excitement, you're going to wake up the kids.
Bass also added that the guys do stay in touch with each other frequently. And even though Justin Timberlake's "ramen noodle" hair is the butt of many an internet meme, they actually spend most of their time ragging on Joey Fatone via group text. "All we do is bag on each other all day long," he said.
Fellas, we're begging you, please get your shit together (yes, we know Justin is just sooo busy being Justin, and we love that, but solo JT needs to take a seat for a minute) and pick a freaking date so we can all come together and collectively freak out. In a very uncertain world, this is exactly what we need right now.
This article was originally published on