Nurse Adopts Baby Who Was Abandoned At The Hospital At Birth
by Julie Scagell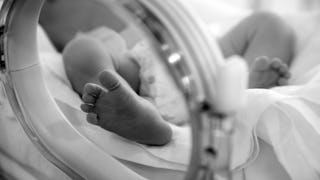 Image via Kittimages/Getty Images
Gisele was born prematurely, weighing just under 2 pounds
A Massachusetts nurse's dream of becoming a mother finally became a reality in October of last year after adopting a beautiful baby girl who'd been in the hospital for five months — a ward of the state — and hadn't had a single visitor since she'd been born.
Back in 2016, Liz Smith, director of nursing at Franciscan Children's hospital in Brighton said she ran into the baby girl while on her way to the elevator, The Washington Post reports. "Who's this beautiful angel?" Smith asked the nurse who was with her. She found out the little girl was eight-month-old, Gisele, and she'd been through a lot in her short life.
Gisele was born prematurely at another hospital in July of that year, weighing in at just under two pounds. She had neonatal abstinence syndrome (NAS), which is a group of conditions caused when a baby withdraws from certain drugs they are exposed to in the womb. For Gisele, this was a result of her birth mom using heroin, cocaine, and, methadone while she was pregnant.
Shortly after she was born, the state took custody of Gisele and sent her to Franciscan Children's because her lungs were underdeveloped and she required a feeding tube. They continued to try to locate the child's family but no one had come forward.
"Gisele," Smith said on her way home that night. "Gisele." Smith said that's when she knew what she wanted to do: "I'm going to foster this baby. I'm going to be her mother."
Smith said she'd always wanted to have a baby but life hadn't worked out that way for her. She was an aunt to 13 nephews and nieces but always felt a void from not having a child of her own. She'd believed one day she would try IVF but when her insurance wouldn't cover the procedure, her dream of becoming a mom felt impossible. "I never imagined becoming a mom would be a challenge," she said. "It's a desire you can try to push away and fill with other distractions, but it never goes away."
Smith put in a request to foster Gisele and visited her daily while she waited for word. "She was behind developmentally, and I wanted to get her out of the hospital and get her thriving," Smith said. Her request was finally granted, but the state said they were still doing everything they could to reunite her with blood relatives.
Eventually, the state agreed her birth parents weren't capable of caring for Gisele, terminating their parental rights. Smith was able to officially adopt her, a bittersweet moment for her. "The day I got the call that their parental rights were terminated was very sad," she said. "My gain was another's loss. It's a feeling difficult to describe when you are experiencing this life-changing moment that someone else is as well, in the opposite way. The bottom line is: It's devastating for another family."
Finally, in October 2018, Smith, with tons of family and friends present, officially became Gisele's legal mother. It was a long, hard road for both mom and baby, but the pair now have the rest of their lives together to make happy memories.