Nursing Home Gives Residents Foster Kittens To Care For, Happiness Ensues
by Christine Organ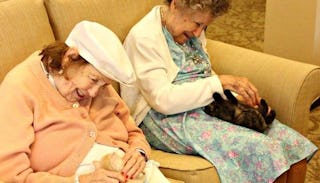 Image via Pima Animal Care/ Facebook
A new program at a senior living facility in Arizona lets residents care for kittens, and everyone is better off because of it
For seniors suffering with Alzheimer's or dementia, a little happiness and a sense of purpose can go a long way. Thanks to a new program at an Arizona senior memory care facility that allows residents to feed, care for and play with kittens, the residents are thriving and have a renewed sense of purpose. And the kittens are pretty darn happy, too.
RELATED: How Much Does Assisted Living Cost? Get The Bottom Line
The program, called "Bottle Babies," was the brain child of Rebecca Hamilton, the health service director at Catalina Springs Memory Care, who is also a veteran kitten fosterer at Pima Animal Care Center. Knowing that young kittens require constant care, she thought perhaps letting the Catalina Springs residents care for the kittens would be mutually beneficial for both the felines and the humans involved.
Enter Turtle and Peaches, female litter mates who came to Pima Animal Care in mid-October. Hamilton brought them to Catalina Springs and in just a few weeks, it was pretty clear that she was on to something with the Bottle Babies program. The kittens have nearly doubled in size and the residents are downright giddy about these kittens. Turns out the happy factor of cute kittens isn't limited to the cat videos on Facebook; it's damn near universal.
Take, for example, Greg Moore. According to Antoinette Manning, resident care coordinator at Catalina Springs, Moore doesn't want to be bothered and he rarely talks to anyone. In fact, he sometimes fears normal social interaction as threatening and is often frustrated, which is common for many people who move to senior living centers — especially those who suffer from dementia. But since Turtle and Peaches joined the group at Catalina Springs, Moore seems to have a new lease on life. Each day he puts a kitten under each arm, announces that "it's time for their walk," and walks them around the facility. Even Moore's wife has noticed a difference in his mood since the kittens arrived.
"They [seem to] recognize them as babies, and the human instinct to nurture just kicks in automatically," Hamilton said. Caring for the kittens brings out moments of clarity and communication in the residents that she calls "incredibly monumental." The residents feel useful and productive, which can go a long way in shifting an elderly person's quality of life, especially if they are dealing with an incurable disease.
The program is also helping the residents remember long-forgotten memories, which is a rare and special gift for dementia patients. For instance, while feeding one of the kittens, Thelma Bradfield, a patient with memory issues, was able to recall decades-old memories of her childhood growing up on a farm with 19 cats.
According to the National Institute on Aging, experts estimate that more than 5 million Americans may have Alzheimer's disease, which is the most common cause of dementia among older adults. Although dementia ranges in severity from minor limitations on person's ability to function to loss of independence for basic activities of daily living, one thing is certain: dementia can be painful, emotional and frustrating. The loss of independence and memories stolen by dementia can suck the life out of a person, and watching someone you love slowly turn into someone you barely recognize is absolutely brutal. Any little bit of grace, compassion and friendship – even if it's a human-cat friendship – can go a long way in enhancing a person's quality of life.
"To some it may seem peculiar at first: Residents who are in need of around-the-clock care themselves, given the task to care for these young kittens," said Sharon Mercer, Catalina Springs Memory Care Executive Director. "But there are skills, emotions and needs that do not just leave a person with dementia or Alzheimer's. The desire to give love and receive love remains. The kittens have given us the opportunity to nurture this human condition that lies in each and every one of our residents."
This article was originally published on