Nursing Homes See Drop In COVID-19 Due To Vaccines
by Kristine Cannon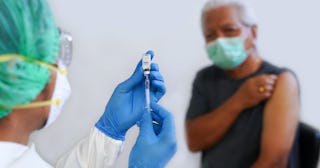 Pornnapa Phetthai/EyeEm/Getty Images
'The decline in new cases … is encouraging,' AHCA said
Since vaccinations began mid-December, more than 36 million doses have been administered at a rate of 1.3 million shots a day, according to NPR and the CDC — reaching 8.7 percent of the population. Now, not only are states, like Arizona, reporting more vaccinations than COVID-19 cases, but federal officials are also reporting a more than 20 percent drop in nursing home COVID-19 cases rates.
RELATED: How Much Does Assisted Living Cost? Get The Bottom Line
According to a recent American Health Care Association (AHCA) report, COVID-19 cases in long-term care facilities are declining due to the vaccines, with new weekly cases declining by 22 percent over three weeks between Dec. 20 and Jan. 10. Long-term care residents account for nearly 40 percent of COVID-related deaths in the U.S. and comprise six percent of total cases.
A new analysis by the Center for Health Policy Evaluation in Long Term Care (CHPE) also states that COVID-19 cases decreased at a faster rate among both residents and staff at nursing homes that had completed their first vaccine clinic versus nursing homes that had not yet administered the vaccine.
"We finally felt we turned the tide around the holiday time," said Centers for Medicare and Medicaid Services chief medical officer Lee Fleisher, per Buzzfeed News. "What we believe is beginning to be shown with this data is now we're seeing the effect of both the interventions, but also the vaccine."
CHPE examined data from nearly 800 nursing homes that conducted their first vaccination clinic between Dec. 18 and Dec. 27 and found that vaccinated nursing homes experienced a 48 percent decline in new resident cases three weeks after the first clinic, compared to a 21 percent decline among non-vaccinated nursing homes located in the same county. And, new staff cases declined by 33 percent in vaccinated nursing homes compared to 18 percent in non-vaccinated facilities.
"The decline in new cases three weeks after the first dose, compared to facilities having vaccine clinics later, is encouraging and signals that the vaccine may decrease the spread of COVID, a finding not shown in the trials," said Dr. David Gifford, Chief Medical Officer for AHCA/NCAL, in a prepared statement.
"If verified with additional data, this could expedite the reopening of long term care facilities to visitors, which is vital to residents' health and wellbeing," he continued. "Given the disproportionate impact COVID-19 has on long term care residents, we must continue to prioritize vaccinating the elderly in these settings."
Marsida Domi, Senior Research Analyst, AHCA/NCAL, adds that they are also hoping to learn more about whether the decline in deaths is associated with vaccination.
While this is good news, AHCA emphasizes the continued need for vaccinations.
"Nursing homes were experiencing record-breaking cases and deaths in November and December due to high community spread leading into the fall and through the holidays," the ACHA report states. According to the New York Times, more than one-third of U.S. COVID-19 deaths are linked to nursing homes. That's at least 152,000 deaths reported among residents and employees of nursing homes and other long-term care facilities.
"While this decline is encouraging, long-term care facilities are still experiencing higher weekly cases and deaths than the Sun Belt surge last summer, signaling the need for ongoing vigilance and vaccinations," ACHA continues.
Information about COVID-19 is rapidly changing, and Scary Mommy is committed to providing the most recent data in our coverage. With news being updated so frequently, some of the information in this story may have changed after publication. For this reason, we are encouraging readers to use online resources from local public health departments, the Centers for Disease Control, and the World Health Organization to remain as informed as possible.
This article was originally published on