Nursing Homes Have Been COVID-19 Hotspots -- Here Are Their Updated Protocols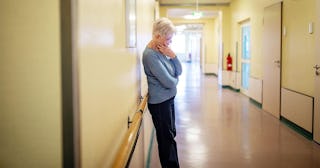 Luis Alvarez/Getty
In this time of unprecedented crisis, a time that history will define as the "world war" or "Great Depression" of our lifetime, we've struggled to get consistent, reliable news. As we live through mass hysteria and uncertainty that could cripple the economy and take thousands of lives, we aren't getting the answers we need. Or, we are getting too many answers and we don't know what to believe.
Politicians and news media are all over the board with how much is too much preparation, and whether we all need masks or only hospital staff needs masks. What exactly shelter in place means, who's expected to do it, and what the consequences might be for those who don't.
RELATED: How Much Does Assisted Living Cost? Get The Bottom Line
Here's what we do know: No one will be left untouched by this nightmare. When this is all said and done, we'll all know someone who had COVID-19. And, unfortunately, one of the groups most vulnerable to this virus are the elderly, who need us to protect them more than ever.
When COVID-19 started spreading like wildfire through the U.S., nursing homes were one of the first epicenters of the virus. 37 deaths are associated with an outbreak that started at the Life Care Center of Kirkland in Washington. A March report from the CDC outlined that 129 COVID-19 cases stemmed from the nursing home, including patients, staff and visitors.
It has quickly become apparent that drastic measures must be taken to ensure the safety of our elderly during this pandemic.
According to Dan Stockdale M.A., a Certified Nursing Home Administrator who has managed nursing homes around the nation, these vulnerable facilities are now under quarantine. This means no visitors are allowed, and anyone who does enter the building (i.e. a vendor or staff member) must undergo a rigorous screening process first.
Most importantly, Stockdale says these extreme measures are working. He even admits to "going overboard" at times, and as a result, his facilities have successfully staved off COVID-19 so far.
So what, specifically, is the protocol at these nursing homes right now? Well, for one, visitors can only stand outside their loved one's window. In-person visits are prohibited. Secondly, all packages and deliveries are sanitized, and packaging is properly opened and disposed of outside the building.
"Our most intensive screening, however, is with the staff," Stockdale tells Scary Mommy.
First, before even entering the facility, all nursing home employees must wash their hands in the vestibule. Next, they are escorted (with a cleared staff member) directly to the nurse's office. There, they are screened physically — meaning their temperature is taken — and they are checked for signs and symptoms. They are also asked a series of questions about where they've been and how they are feeling. If any staff member shows a fever or does not pass this screening for any reason, they cannot go any further and are sent home with instructions to not return for a minimum of 14 days, and only then once they've have been cleared by a health professional.
Also, Stockdale says his staff is taking extra special care of their residents during this scary time. All residents have their temperatures taken twice a day, and they are screened more frequently for signs of mental health issues like depression that could result from loneliness and isolation.
How do nursing homes help their elderly residents fight off these feelings when their families and friends cannot visit? Through a variety of steps, Stockdale says, including an increased level of "activity staffing" and "one-on-one activities." Stockdale explains that staff members are visiting with residents in their rooms more now, spending quality individual time with them. They are also tapping into their residents' passions and interests.
"If the person used to be a mechanic or is into hot rod cars, we might bring in videos on YouTube or hot rod magazines when we visit," Stockdale says.
Also, he says residents are allowed to walk around the facility and visit "neighbors" in the building with staff accompaniment. And he made it a point to say that in critical situations, there is a system in place for a resident to be moved to another location where their family members could visit and be with them. He assures that the staff is "very committed" to ensuring residents are not alone if they're in a critical state—a measure that likely comforts both residents and those on the outside who love them and want to be with them in their time of need.
We asked Dan Stockdale—a man whose life's passion is to care for the elderly—what can we do? How can we help? His answer went beyond the typical "Send mail!" "Send cookies!" or "Call or visit!" suggestions.
In fact, he warned, "I'm going to get on my soapbox for a minute here" and his message is one we all need to hear.
Yes, our aging population needs to feel loved and know that they aren't forgotten, but that's not solely because of COVID-19. This means that any efforts we take to help out right now shouldn't stop when this is all over. "Don't just volunteer and offer help during this crisis and around the holidays," Stockdale pleads. "We've got a lot of people who don't have family and have outlived all their friends. I hope this can be a jumping off point for us as a society where we really start embracing our elderly and valuing them again they way they do in other cultures."
It's heartbreaking "every single year in every single building," he describes. "In November and December it's great and then it's a ghost town for the next ten months."
Stockdale asks that we, as families, make reaching out to the elderly a part of our regular routine. "For example, every Saturday, or the first Saturday of every month, go to your local nursing home and visit somebody who doesn't have a family," he suggests.
But what about now, when visitors aren't allowed?
Visit via phone. Or FaceTime. Or Skype. "Adopt" a lonely nursing home resident by calling, asking to speak to the social services director, and finding out who doesn't have regular visitors. Befriend that person and set up a time to regularly contact them. Once the COVID-19 scare has passed, in-person visits can resume.
Stockdale also says his facilities are accepting mail and care packages, although they are sanitized before entering the building.
Having lonely residents in nursing homes and a country full of kids who aren't in school is a great opportunity for a personal connection and a bit of education, Stockdale says. "What a great history lesson for the kids who aren't in school right now to be able to talk to someone who's 93 years old and ask them what they've lived through and what they've seen in their lifetime."
So what can we as a nation in crisis do to help our most vulnerable population? Dan Stockdale says all we need is some compassion and a family calendar. "Spend this time under quarantine planning out what you're doing to do as a family for the rest of the year. Brainstorm one thing per month that you can do, or something you can bring to your 'adopted grandparent' once visitors are allowed again."
And until that times comes? Just pick up the phone.
This article was originally published on