Nutella-Inspired M&M's Are Coming Because The World Needs Them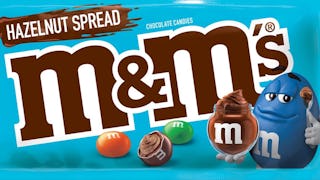 Image via Mars
These hazelnut-filled M&M's are exactly what we need right now
Everything is kind of awful lately, isn't it? The news keeps bringing us fresh horrors to digest and it's as though there's nothing good in this world — but today we have a yummy ray of sunshine peaking through the clouds. We're getting M&M's stuffed with a Nutella-like hazelnut spread and it's the headline 2018 needs.
Even if you've never been super excited about the new flavors M&M's always rolling out you'll probably lose your chill quite a bit when you see these bad boys.
Because, OMG.
Look at that smug blue M&M with his spoonful of hazelnut spread. I feel very attacked right now as though this package art is based on a photo of me in my kitchen at midnight, licking Nutella off a spoon like it's my job. ANYWAY, they look freaking fantastically delicious.
In a press release, Allison Miazga-Bedrick, senior brand director, says "We're thrilled to deliver this new flavor with color and fun, in a way that only M&M'S can."
The company is also giving us M&M's chocolate bars featuring mini M&M's in five different flavors — peanut, milk chocolate, almond, crispy, and crispy mint. I'll take 100,000 of the almond kind, please and thanks.
Miazga-Bedrick says, "The industry is changing and consumer tastes are evolving. We're continuing to recognize and anticipate demand. We're excited to debut M&M's Chocolate Bars and know that our M&M's fans and chocolate bar lovers alike will appreciate the delicious taste that comes from our rich and creamy chocolate."
This is a lot to take in, I know.
The bars will be available in December of this year, just in time to stick in our kids' Christmas stockings only to turn around and steal later to eat while hiding in the closet, not sharing. Likewise, the hazelnut-filled candies debuts in April 2019, just in time for us to stash them in our kids' Easter baskets only to turn around and steal them for ourselves once again.
As is our absolute right as parents.