NYC Dept Of Health Issues Guidance: Everyone Should Act Like They've Been Exposed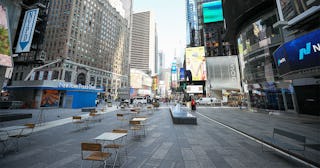 Anadolu Agency/Getty
New York City residents are being told by the city's Department of Health to stay home whether they're sick or not
Amid new restrictions enacted in the states of New York, New Jersey, and Connecticut in the hopes of slowing the spread of the novel coronavirus, New York City is now telling its residents to "act as if they have been exposed to coronavirus." The new guidance was issued last night as states and cities all over the country grapple with how best to slow the number of new cases of the virus.
"Everyone in NYC should act as if they have been exposed to coronavirus. That means monitoring your health closely and staying home from work if you are sick. New Yorkers who are not sick should also stay home as much as possible," they tweeted last night.
The city pleads with citizens to "only leave your home for essential tasks, such as work (if you cannot work from home), getting groceries and supplies or essential medical care. Try to use delivery services when possible." They're also urging people to stay home if they're sick and to wait three or four days before consulting with a healthcare provider in order to save resources for those truly in need.
"Only seek health care if you are very sick. We need to make sure people with severe illness will be able to stay in a hospital or intensive care unit if they need to," they advise.
According to the New York Times, new regulations for NY, NJ, and CT were discussed between the governors of the three states. They have also taken the step to limit all gatherings to no more than 50 people with many non-essential businesses being ordered closed. In addition, NYC public schools are now closed for at least five weeks and the state of NY has closed all schools for two weeks. Casinos, gyms, and movie theaters in all three states have been ordered closed by 8pm tonight. Grocery stores, gas stations, pharmacies, and other essential businesses are staying open with Governor Cuomo encouraging other types of businesses to close by 8pm.
As of today, New York state has 950 confirmed coronavirus cases, up from 729 on Sunday.
Information about COVID-19 is rapidly changing, and Scary Mommy is committed to providing the most recent data in our coverage. With news being updated so frequently, some of the information in this story may have changed after publication. For this reason, we are encouraging readers to use online resources from local public health departments, the Centers for Disease Control, and the World Health Organization to remain as informed as possible.
This article was originally published on