NYC Could Be A Model For Opening Schools Safely During COVID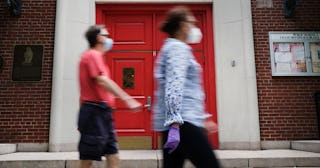 Spencer Platt/Getty
Could New York City show us the path to safe school reopenings in the COVID era?
Schools all over the U.S. have had an agonizing back-to-school season. First, there were the questions of whether it was possible to hold safe, in-classroom instruction at all. Then, there were the times it failed: Schools opened their doors for the fall semester only to see massive, nearly immediate outbreaks of COVID-19 that forced them to shut down again. The nation's largest school districts — New York, Los Angeles, and Chicago — stayed virtual while they tried to discover how a student population of such a size could be kept safe. And now, three weeks into the start of in-person classes in New York City, we have some promising results and a potential path forward for schools all over the country.
According to a New York Times analysis, New York's system of randomly testing students and staff for COVID on a monthly basis seems to be working. Out of 10,676 test results that have come back so far, only 18 have been positive: 13 staff members, and just five students.
The district has adopted a system of conducting random COVID-19 tests on a monthly basis, testing 10-20 percent of a school's population each month, depending on its size. If one positive result comes back, a classroom might be shut down. If a school gets more than one positive result from different classes, the entire school will close temporarily. At least 25 schools have been shut down due to positive tests since the school year started in September, but as of last week, only three were closed.
While the results seem promising on paper, there are some caveats. About half the students in New York City's 1.1 million schools opted for a hybrid learning system, meaning they're in the classroom some days and continuing virtual learning the rest of the time. This means New York City's schools are not at their normal class sizes or capacities.
And health experts told The Times they have some reservations about the testing system. In order to ensure you're catching all outbreaks, one doctor said, you'd need to test close to 50 percent of the school population, on a twice-monthly schedule.
"It's great that New York City is doing some level of random testing," Dr. Ashish Jha, dean of the Brown University School of Public Health, said. "It's not at the level that would be ideal."
And other experts warn that school reopening has been successful in New York City because as of now, the city has been successful in tamping down its COVID-19 outbreaks. In places where the virus is surging in the general population, like the Midwest and Mountain West, currently, scientists say it's likely to spread in schools, and a testing system like New York's won't stop it.
Still, though, parents in New York told The Times that so far, they feel safe sending their kids to school. And if other parts of the country can handle their outbreaks like New York has, this is a potential bright spot of hope for schools.