NYC Teachers Have Until Friday To Get Vaccinated Or Lose Their Jobs
by Christina Marfice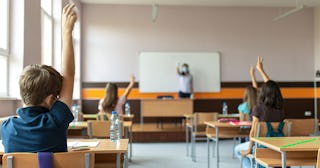 miljko/Getty
One of the first legal tests for COVID-19 vaccine mandates is playing out in NYC schools this week
As the delta variant of COVID-19 continues to wreak havoc across the country, causing more than 2,000 deaths per day, the U.S. remains far below vaccination levels that would significantly impact the virus's spread. President Joe Biden has called on cities, states, and private businesses to begin instituting and enforcing vaccine mandates for their employees, and in NYC, one of the first legal tests of those mandates is playing out, as a panel of judges allowed a rule requiring all school staff members to be vaccinated to move forward.
NYC public school teachers and other school staff will now have until Friday at 5 p.m. to receive their first dose of a COVID vaccine, or risk losing their jobs. The deadline was originally supposed to be Monday, but was pushed back after a judge granted a temporary injunction over the weekend, blocking enforcement of the rule. This week, a panel of three judges from the Second U.S. Circuit Court of Appeals dissolved the injunction, though they didn't publicly give their reasoning for doing so.
"Vaccinations are our strongest tool in the fight against COVID-19 – this ruling is on the right side of the law and will protect our students and staff," a Department of Education spokesperson said in a statement. "The mandate will go into effect on Friday end of day so that by Monday, October 4, 100% of educators and staff in our buildings will be vaccinated."
NYC Mayor Bill de Blasio said that the decision clears a path for other vaccine mandates in the city.
"We expect that as early as the end of this week, we will be going to the full vaccine mandate," he said. "But of course we will go through the full court process."
While there's plenty of legal precedent for requiring the vaccines in the name of public health (going all the way back to smallpox vaccines), COVID-19 and the policies surrounding it have become flashpoints in a partisan culture war. Conservative leaders have ignored or even banned public health measures like masking, while liberal leaders, including the president, have pushed for mask and vaccine mandates to pull the country out of the pandemic.
While NYC has a high vaccination rate, it's estimated that around 10,000 teachers still haven't received a dose as of this week. Critics of de Blasio's mandate for school employees say the move will lead to staff shortages and disrupt education. But data shows that as of Monday, 87 percent of education department employees were vaccinated, including 90 percent of teachers and 97 percent of principals.