NYC Is Letting All 1.1M Of Their Students Skip Class For The Climate Strike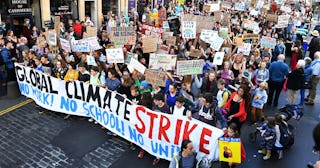 Jeff J Mitchell/Getty
Students in New York City can skip class as long as they receive permission from parents and guardians
There are 1.1 million students in New York City's public school districts, and every one of them is allowed to skip class to participate in the global climate strike protests happening today. Well, as long as they have permission from their parents, of course.
But truly, let this be an example to public school districts around the country — allowing students to participate in a huge movement like this is just as effective, if not more so, than sitting in the classroom when it comes to what they're learning.
New York City's department of education announced the news via Twitter.
The city's department of education sent notice to all schools that any student attending the protest will have their absence excused. Middle and high school students will need to get permission from their parents and guardians to attend, and while elementary students — who are also invited to participate — will need to be signed out by a parent or guardian.
The Global Climate Strike website says, "Millions of us will walk out of our workplaces and homes to join young climate strikers on the streets and demand an end to the age of fossil fuels. Our house is on fire — let's act like it. We demand climate justice for everyone."
Millions of students worldwide have been leaving their classrooms every Friday to participate in the Global Climate Strike, but today will really drive the point home with people everywhere walking out of their homes, offices, schools, farms, and factories to disrupt "business as usual" and "refuse to accept the status quo."
In New York, crowds will rally in downtown Manhattan at noon, where a roster of young climate activists will speak. Sixteen-year-old Greta Thunberg, who sailed to New York to speak at the UN Climate Action Summit on September 23, is one of the speakers.
According to the site, people in 150 countries will spend the day in protest against new pipelines and mines, or the banks that fund them; some will highlight the oil companies fuelling this crisis and the politicians that enable them. Others will spend the day in action raising awareness in their communities and pushing for solutions to the climate crisis that have justice and equity at their heart.
New York Mayor Bill de Blasio said he supports the move, writing in a tweet, "New York City stands with our young people. They're our conscience."
"On a grossly unequal planet, not everyone will be able to take a day off or take part in the same way," the Global Climate Strike site says. "But we can all take a stand and make our voices heard."