NYC Subway Bans Dogs Unless They Fit In A Bag, Passengers Hilariously Make It Work
by Mike Julianelle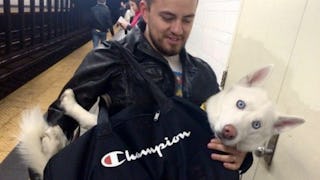 Image via Twitter
Subway riders respond to new regulation by getting bigger bags for their bigger dogs
The New York City subway can be a pretty soul-destroying place, especially if you get trapped in one of those hell trains with no A/C and no power and extra B.O. The people in charge have taken steps to make the daily commute even worse by banning dogs that don't fit in bags.
Fortunately, the people of New York weren't having it, and decided to bite back.
The MTA recently introduced a rule that bans dogs and other pets from the subway, unless "enclosed in a container and carried in a manner which would not annoy other passengers."
New Yorkers, surely desperate to cling to one of the few things that helps make the commute less of a nightmare – because who isn't delighted to encounter man's best friend on the train? – found a loophole and exploited it. Adorably.
Thank god for Twitter, where the pictures of people "enclosing" their dogs in "containers" are making the rounds.
https://twitter.com/jetpack/status/8722142857280020493
I find it hard to believe anyone is annoyed with any of those pups!
Times are tough in NYC right now. One of our most obnoxious citizens is making a mockery of the White House and giving us a bad name, summer weather can't quite seem to catch on, and the subway has been even less convenient and more terrorizing than usual. We gotta take some joy where we can get it, and we're not about to let some pesky regulation rob us of it!
Seeing a doggie on a subway is an actual highlight, the exact opposite of seeing a mariachi band walk onto your train. And seeing a doggie IN A BAG on a subway is not only cute and hilarious, it's viral-worthy.
The people flouting the rules and making sure those of us consigned to NYC commuter hell have the occasional bright spot are true heroes, and they're making me want to commute into work right now, even though it's Saturday.
Who wouldn't get a kick out of seeing this little guy sitting across from them on the F train?
This article was originally published on