Subway Passengers Happily Sing 'The Backstreet Boys' Together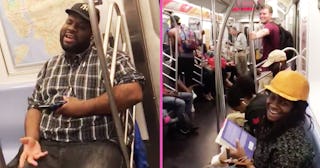 Joel Wertheimer/Twitter
This 'Backstreet Boys' subway sing-along is the best thing you'll see today
As a woman of a certain age, I'm not remotely ashamed to say that hearing the dulcet tones of Kevin, Brian, Howie, AJ, and Nick pretty much always makes me smile. A recent viral video proves that it's not just ladies in their 30s and 40s who can't resist bopping along to the infectious tunes of the Backstreet Boys. They have the power to bring together entire New York City subway cars — which isn't an easy feat.
Earlier this week, civil rights attorney Joel Wertheimer shared video he took on his subway ride where a few guys decided to spread the joy of the Boys by blaring it from a speaker they were carrying."Had a really tough week and tonight I was on the subway and some guy walks between train cars, shirtless, bumping a speaker," he writes.
"I wasn't in the mood for Showtime particularly. But sometimes people and life surprise you and a little magic happens."
Make that a lot of magic.
Now, don't you feel slightly better about life after watching those few seconds of unadulterated fun? I definitely do. And so do plenty of folks who took to the reply section to share how much they loved it too.
https://twitter.com/jetpack/status/1141962807350562816
The world would simply be a better place if the Backstreet Boys were regularly playing in public. Come at me. You know I'm right.
Wertheimer tells Scary Mommy that what happened was definitely very NYC. "I think it connected particularly for New Yorkers or former New Yorkers," he says.
"Maybe not everybody knows what I meant by 'Showtime' in my tweet. That's when people get on the train, blast music, and dance using the subway poles," he explains. "They're really impressive honestly and sometimes it's really entertaining, but also sometimes you just don't want to have to move or worry about getting kicked in the face or not be able to hear your music in your own headphones."
And that's what made the viral moment so different from a typical "showtime" ride.
"I think instead, getting a moment of real community, spontaneously, really made people happy," he says. Wertheimer says he thinks a lot of the replies came because he admitted in the tweet that he was having a bad week. "So many of the replies have been from people really needing a lift," he shares. He also told us a little about what was going on to make his week difficult. "I've been working on the case of Layleen Polanco, the transgender woman who died at Rikers' Island on June 7, and had gone to her funeral on Saturday," he says. "My wife, who does social justice work (she's also in the video) was pushing me to do self-care because working on civil rights cases can be really tough, taking in other people's traumas. So we'd gone to a meditation class, and…I didn't feel better. And then we got on the train, and this happened, and I couldn't stop smiling."
Honestly, neither could we.
Kudos to Wertheimer for sharing something that ended up brightening not just his day, but thousands of others. Sometimes the internet is very, very good.
This article was originally published on