NYU Medical School Tuition Is Now Free For All Students
by Christina Marfice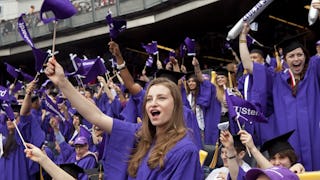 Image via Melanie Stetson Freeman/The Christian Science Monitor via Getty Images
NYU medical school just became the first in the U.S. to offer free tuition to all students
As the student debt crisis continues to plague a generation and politicians continue to tell us that free — or even reduced — tuition is impractical and out of reach, some schools are doing it anyway. NYU's medical school just became the first in the U.S. to announce that all current and future students will receive full-tuition scholarships.
That's right. All students.
Regardless of their financial situations, any student accepted into medical school at NYU will have tuition fully covered. School officials say high tuition and six-figure debt is pushing more and more young doctors into high-paying specialties, and they hope this will contribute to a nationwide shortage of researchers, primary care physicians, pediatricians and other less lucrative fields.
The yearly $55,000 tuition costs will now be covered by donations from trustees, alumni and more. Only tuition will be covered; students are still responsible for their own room and board.
Those behind NYU's decision to eliminate tuition for medical students hope other U.S. schools will follow their example.
"Thanks to the extraordinary generosity of our trustees, alumni, and friends, our hope—and expectation—is that by making medical school accessible to a broader range of applicants, we will be a catalyst for transforming medical education nationwide," Kenneth G. Langone, chair of the Board of Trustees of NYU Langone Health, said in a statement.
This is a great step, especially considering the average medical student in the U.S. graduates with $202,000 in debt. But it's still hard not to be a little bitter that this kind of opportunity is being extended to medical students, who are set to graduate into mostly lucrative careers, and not, say, teachers, who are often required to obtain advanced degrees for relatively little pay.
Still, anything that keeps students from having to rely on a ridiculous game show to pay their student debt is a step in the right direction. The richest nation in the world shouldn't be forcing young people into crippling debt just to get an education, and if the schools themselves are willing to be the ones to address that, we'll just be happy it's happening.