Baseball Fans Rally For 9-Year-Old Who Lost His Memorabilia In California Fires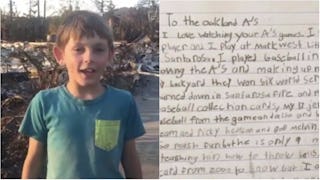 Image via Twitter/Melanie Woodrow/Katie Utehs
Fans and teams work together to replace lost collection
Over 5,700 homes and structures have been destroyed so far in the wildfires that are sweeping through Northern California. One of those homes belonged to the family of 9-year-old Loren Jade Smith's, a major league baseball fan whose collection of cards, jerseys, hats, and signed balls went up in the Santa Rose flames. But after a local reporter posted Loren's story on Twitter, fans and teams from across the country responded to try to fill this one hole in a little boy's life.
On Saturday, local ABC 7 reporter Katie Utehs tweeted an image of a letter Loren wrote to his favorite team, the Oakland Athletics:
It reads:
"To the Oakland A's:
I love watching your A's games. I want to be an A's player and I play at Mark West Little League in Santa Rosa. I played baseball in my backyard all day loving the A's and making up my own game. In my backyard they won six World Series in a row. But my house burned down in the Santa Rosa fire and my saddest things was my baseball collection cards, my 17 jerseys and 10 hats and my baseball from the game and also a ball signed by the whole team and Rickey Henderson and Bob Melvin. My brother and me have so much fun but he is only 9 months old. I am teaching him how to throw balls. I have every single A's card from 2000 to now but I am 9-years-old. I had a major league baseball and it all burned up. So sad. I know you are not all together but hope they get this.
By Loren"
The next day, fellow ABC 7 reporter Melanie Woodrow followed up with Loren, who read her his letter and did an outstanding impression of an Athletics' announcer:
The images of this young boy standing in his front of his burnt-down neighborhood, talking about his love for baseball, touched hearts everywhere. As Loren's dad, Tait Smith, told local ABC affiliate KGO: "It breaks my heart just that he is not going to be back here [in the yard] screaming and yelling home runs that he hit over the fence with the whiffle ball to the neighbors."
After the story was published locally, Athletics' fans started contacting the reporters, offering to help Loren:
The A's came through for their biggest fan as well, with the team president tweeting his support and the organization putting together a donation drive to replace his lost memorabilia:
Soon, the Topps baseball card company, major league players, and other major league teams were getting involved and putting together their own care packages for Loren:
What people are ready to do to try to make this little boy smile is outstanding. No, these donations won't help Loren and his family get a new house or replace their other important belongings, but what they will do is give a little boy who has lost everything some joy. Let the adults worry about all the other stuff and let's help kids like Loren — who have suffered a loss greater than many of us can imagine — go back to being kids again.
(h/t SB Nation)