Obama's Touching Tribute To His Daughters Brings Everyone To Tears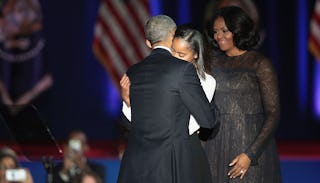 Image via Scott Olson/Getty Images
President Obama proves in final address that he's total dad goals
Political views aside, it's hard for anyone to deny that President Obama is a dedicated parent. Alongside the First Lady, he's raised two daughters in the public eye for the past eight years without a single misstep. Now, in his last address before leaving office, he pays tribute to these amazing girls and reminds us that the title he's most proud to hold will always be that of "dad."
In last night's farewell address, President Obama made many Americans emotional for more reasons than one, but possibly his most tear-jerking moment was when he spoke of his daughters, Sasha and Malia.
First, he praises Michelle, calling her not only his wife and the mother of his children, but his "best friend." He says, "You took on a role you didn't ask for and made it your own with grace and grit and style and good humor. You made the White House a place that belongs to everybody. And a new generation sets its sights higher because it has you as a role model. You've made me proud. You've made the country proud."
Someone pass the tissues, please. Like, the entire box.
As if that wasn't heart-wrenching enough, he then speaks lovingly of Sasha and Malia, making pretty much everyone cry, including Malia. The Dad-in-Chief says, "Malia and Sasha, under the strangest of circumstances, you have become two amazing young women, smart and beautiful, but more importantly, kind and thoughtful and full of passion. You wore the burden of years in the spotlight so easily. Of all that I've done in my life, I'm most proud to be your dad."
As the President became choked up, so did the crowd. Watching Malia wipe tears from her face as she listened to her father's words, it's clear to anyone watching that this family has an incredible amount of love for each other, along with an unshakable bond. Despite eight years of vile hatred lobbed their way, the Obamas have maintained an unprecedented level of class and grace, never stooping to the level of their detractors. And there's no question that the gracious example of the President and First Lady is the reason Malia and Sasha have grown from sweet little girls into such admirable young women.
When Obama speaks of the "burden" they bore, it's hard to imagine what they've had to read about their family over the years. But with parents like theirs, they came through it with flying colors.
And not that we needed more proof of the Obamas being amazing parents, but we got yet another example last night of the values they're instilling in their girls when Sasha was absent from her father's farewell address. Social media noticed she was missing and began to speculate, but it turns out, the younger Obama daughter had a very teenagerly reason for not being there; she had an exam this morning that she needed to study and rest up for.
Could they be more grounded and normal?
We've had the most shining example of loving parenting and family life from the Obamas for the last eight years. We will miss them dearly for a number of reasons, but mostly, we will miss having a first family that people from either side of the aisle could be proud of. A constant reminder of what an American family should be.
Thank you, Obamas. From the bottom of our hearts.