Obama Roasts Trump At Rally: 'It Won't Be So Exhausting Just Having A Normal President'
by Madison Vanderberg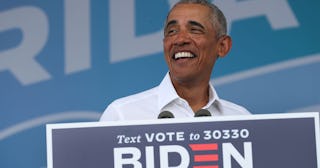 Joe Raedle/Getty Images
Barack Obama teases life after Donald Trump and it sounds amazing
The typically diplomatic Barack Obama just did the presidential equivalent of popping off. With 10 days (!) left before the election, there is no time to waste being polite, because Donald Trump has got to go and Obama is doing his part to make that happen. Speaking at a socially distant drive-in rally in Florida on Saturday, October 24, 2020 — Obama spent a cool 45 minutes reminding voters why Trump doesn't deserve their vote and painted a very appealing picture of what life will be like when Trump is no longer in it.
"With Joe and Kamala at the helm, you won't have to think about them every single day," Obama said with a smirk. "There might be a whole day where they won't be on TV. There might be a whole day when they don't tweet some craziness. You won't have to argue about it every day. It won't be so exhausting, just having a normal president."
Can you even imagine? Can you imagine going one day without presidential chaos? Can you imagine trusting the commander in chief?
Throughout the speech, Obama mentioned some of Trump's (many) insane suggestions over the years like when he suggested "selling Puerto Rico" or when Trump asked a top White House official if he could "nuke hurricanes." Obama compared Trump's behavior to "Florida Man," the moniker given to idiots from Florida who commit bonkers crimes that could "only happen in Florida."
"You can go about your lives knowing that the president isn't going to suggest injecting bleach or retweet conspiracy theories…[or] threaten people with jail for just criticizing him. That is not normal behavior, Florida. You would not tolerate it from a coworker….'Florida man' wouldn't even do this stuff."
Obama was on a roll, but then he got serious and attacked Trump's tax evasion, his plan to roll back Obamacare and leave people with pre-existing conditions out in the cold, and his dismal response to the coronavirus pandemic.
"He doesn't have a plan. He doesn't even acknowledge the reality of what's taking place all across the country," Obama said. "Donald Trump isn't going to protect all of us. He can't even take the basic steps to protect himself." Obama added that all Trump has ever done is "screw this thing up."
Obama's speech was part church part stand-up comedy and I, for one, am fired up. Florida is an all too important swing state in next month's election and as Obama told Biden campaign staffers in the crucial state earlier this week, "If you bring Florida home, this thing's over."
C'mon Florida. Do you really want Florida Man running this country for four more years?
This article was originally published on