Barack Obama Calls For Gun Reform The Way A REAL President Should
by Madison Vanderberg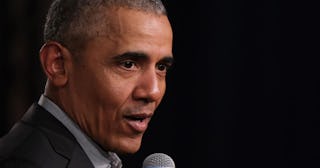 Sean Gallup/Getty Images
Barack Obama penned a statement addressing the gun violence epidemic sweeping our nation
In light of the three mass shootings that have devastated our country in the span of a week, former President Barack Obama has broken his relative silence to speak out about the gun violence epidemic. Obama has rarely commented on Donald Trump's administration, making today's words all the more salient. In his statement, Obama urged citizens to continue to hold policymakers accountable, acknowledged that we are not just dealing with "gun violence" but that we are fighting a war against white nationalism and domestic terrorism, and that we cannot continue to accept leaders (like the current president) who normalize racist sentiments.
Though he does not mention President Trump by name, Obama pointedly remarked in his statement that we cannot allow "our leaders" to continue to incite and fan the flames of racism.
"We should soundly reject language coming out of the mouths of any of our leaders that feeds a climate of fear and hatred or normalizes racist sentiments," Obama wrote. "Leaders who demonize those who don't look like us, or suggest that other people, including immigrants, threaten our way of life, or refer to other people as sub-human, or imply that America belongs to just one certain type of people."
It's not difficult to assume that Obama is referring to Trump here. Although Trump spoke out today to "condemn racism, bigotry and white supremacy," the president consistently stokes and enables racial tensions in America. Off the top of our head, Trump openly stated that four congresswomen of color should "go back to where they came from," he said there were "fine people on both sides" in reference to a white nationalist rally in Charlottesville, Va, and just recently he referred to Baltimore, a majority-black city, as a "disgusting, rat and rodent infested mess."
Obama then went on to link the kinds of racist, xenophobic rhetoric that we consistently hear coming out of the white house with the same rhetoric that led to "slavery and Jim Crow, the Holocaust, the genocide in Rwanda and ethnic cleansing in the Balkans."
In light of the El Paso shooting, especially, Obama made it very clear that we're not just dealing with sick individuals who got their hands on guns — this is domestic terrorism. The El Paso shooter was a white supremacist who was anti-immigration and even told cops that he targeted that particular Walmart next to the US/Mexico border because he wanted to kill Mexicans. Cops also found white supremacy literature in the Gilroy Garlic Festival shooter's home.
"While the motivations behind these shootings may not yet be fully known, there are indications that the El Paso shooting follows a dangerous trend: troubled individuals who embrace racist ideologies and see themselves obligated to act violently to preserve white supremacy," Obama stated. "Like the followers of ISIS and other foreign terrorist organizations, these individuals may act alone, but they've been radicalized by white nationalist websites that proliferate on the internet. That means that both law enforcement agencies and internet platforms need to come up with better strategies to reduce the influence of these hate groups."
"No other nation on Earth comes close to experiencing the frequency of mass shootings that we see in the United States," Obama wrote.
Obama's rallying cry is that individuals demand their reps take action on gun reform, recognize that many of these mass shootings are committed by white supremacists, and understand that the current establishment is enabling these violent acts of racism.