Obama's White House Photographer Masterfully Trolls Donald Trump -- Again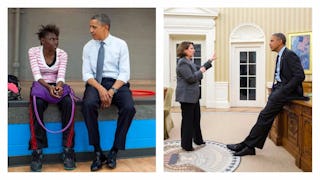 Image via Instagram
Remember when the president wasn't a misogynist? Obama's photographer does
Based on his timely and pointed sharing of old photos, President Obama's photographer is a master of both light and shade.
In the aftermath of President Trump's disgusting tweets in which he attacked and insulted Mika Brzezinski, the host of MSNBC's Morning Joe, former White House photographer Pete Souza took it upon himself to remind us all that it didn't used to be this way.
It's not the first time Souza used old photos to highlight the differences between our last president and the current one, but this might be his best work yet. He took to his Instagram account to share a series of photos of President Obama, entitled "Respect for Women," in which the former president is shown interacting with women. Without insulting or demeaning them. How refreshing.
Look, here's one where he's having a discussion with a group of them without being scared. In fact, according to Souza's caption, he's actually strategizing with them.
In this next one, he's chatting with a girl at the Boys and Girls Club. Remarkably, he's keeping his hands to himself.
The third photo the photographer shared was taken in Afghanistan, with a female soldier. You know, the kind that created "bedlam" once they joined the military?
The fourth in Souza's "Respect for Women" series shows Obama actually listening to a woman as she updates him on the Boston Marathon bombing. Simply amazing. (We're going to guess he didn't immediately send a tweet accepting congratulations for the attack.)
In the last photo in the series, Obama is clearly regaling his dinner companion with stories about the fake Time magazine covers he had mocked up and placed around his vacation home. Oh wait, he didn't do that, because President Obama isn't deranged.
All joking aside, it's a sad state of affairs when the fact that evidence of our president not acting reprehensibly toward women is cause for celebration.
I'm sure there will be some people who nitpick – "Those are still photos! Who knows what he actually said?!" – but we had eight years of President Obama with nary a peep about any inappropriate behavior. Meanwhile, Trump's lifetime in the public eye is littered with account after account of sexual harassment, "locker room talk," and general disrespect and misogyny towards women.
Nobody needed to see these photos to be aware of the contrast between our current president and our former one. But for those of us disgusted by, and fed up with, President Trump's actions and general comportment, it's a nice reminder that it wasn't always this way. We used to have a leader we could point to as a role model.
Hopefully, someday soon, we'll be able to forget what we have now.