The Obamas' New Netflix Series Will Teach Kids Civics Through Music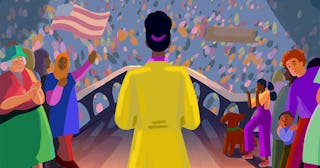 NETFLIX
Barack and Michelle Obama announce their new civics education series called "We the People"
This week, former President Barack Obama and Forever First Lady of Our Hearts Michelle Obama announced their new Netflix series called We the People. The 10-episode series will teach kids about civics using music from incredibly hip artists because, hello — this is the Obamas we're talking about.
"Michelle and I are excited to share our latest show from Higher Ground: We The People," Obama says from his Instagram account. "Some of our favorite artists got together with amazing animators to remix civics—and the result is a lot better than what we had in school."
While nothing can replace Schoolhouse Rock in our 90s kid hearts, this is definitely pretty amazing.
Artists including H.E.R., Adam Lambert, Cordae, Frozen's Robert and Kristen Anderson-Lopez, Hamilton's Daveed Diggs, Brittany Howard, Lin-Manuel Miranda, Brandi Carlile, KYLE, Bebe Rexha, Andra Day, Janelle Monáe, and poet Amanda Gorman will perform original songs and compositions in three-minute music videos to serve as soundtracks to the lessons.
A press release calls the series "an exuberant call to action for everyone to rethink civics as a living, breathing thing and to reframe their understanding of what government and citizenship mean in a modern world."
The Obamas serve as executive producer along with creator of Black-ish Kenya Barris, Tonia Davis, and Priya Swaminathan. The series was created by Chris Nee, writer for Doc McStuffins.
Of course, this doesn't mark the Obamas' first foray into children's programming. Earlier this year, Michelle Obama launched a Netflix series for kids about cooking called Waffles + Mochi. If you haven't checked it out yet, you should — it's ridiculously fun and adorable.
We the People premieres on July 4th (appropriately enough) and prior to that, there will be a free screening in the DOCS Talks section of the AFI DOCS film festival on Thursday, June 24.
This article was originally published on