The Obamas Are Every Mom And Dad On A Kid-Free Vacation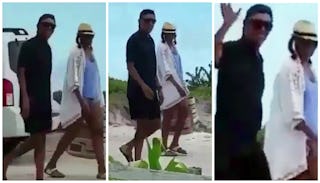 Image via Twitter/ Phillip Lewis
Video of Barack and Michelle on vacation surfaces, and any parent can relate
A video of Barack and Michelle on vacation in the Virgin Islands just surfaced, and they've got the relaxed look of some parents who finally got to escape their needy kids for a while.
According to the Virgin Island Daily News, the couple arrived in the British Virgin Islands on Monday, and were "whisked away to Richard Branson's private celebrity hot spot, Necker Island, for a vacation."
Look at them.
Don't they just have the look of parents who've been saying, Pay attention! Don't do that! Listen to me! Are you listening to me? over and over and over? Our kids never really realize how good they have it, until the shit hits the fan and we've just completely lost it.
Have fun, you guys. Nothing like a vacation where you don't have to worry about your kids for a change.
This article was originally published on