Objects in Motion: A Must-Read New Release From Scary Mommy's Kristen Mae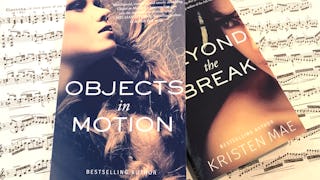 Kristen Mae
Scary Mommy's longtime staffer Kristen Mae's first two books hit bestseller on Amazon, and today is the release of the much-anticipated sequel to her first book, Beyond the Break.
Objects in Motion, a contemporary bisexual romance, follows the same timeline as Beyond the Break, but from the other main character's point of view – and readers are quickly finding out it's not really the same story at all.
Together, these two books tell the tale of two women, each broken in her own way, who form a powerful friendship that evolves into a love that defies categorization. A love that transcends all the usual definitions, all the "shoulds," all the this-is-what-love-is-supposed-to-look-likes. This is a story of trauma, heartbreak, healing, and redemption, all woven within the fabric of one extraordinary friendship.
Early readers are leaving rave reviews for Objects. And we may be just a little biased over here, but we are LOVING it. You will too.
And today only – release day! – the price of Objects in Motion has been reduced by half, from $5.99 for the ebook down to only $2.99.
(Did you hear that? Just for today.)
And it's only $3! Snatch it up.
Here are some reviews from Mae's early readers:
"Heartbreakingly beautiful, Objects in Motion takes you on a journey of love, loss, friendship, discovery, and healing. Claire has her own story to tell and it will move you in ways you will never expect." – Trisha Reynolds, Wide World of Books
"Eviscerating, sensual, and brutally honest, Objects in Motion is an unforgettable story about the complexities of attraction, love, forgiveness, and renewal." – Beth Teliho, award-winning author of Order of Seven
"Multilayered, evocative, and utterly absorbing, Objects in Motion is a heartrending dive into the depths of the human spirit." – Meghan O'Flynn, bestselling author of the Ash Park series
"Objects in Motion is so much more than a love story; it's a passionate love letter to women." – Chrissy Woj, Author
"Objects in Motion exposes to us a small sliver of the excruciating, ever-present longing that is the residue of what-could-have-been." – René Nienaber, Author
"This beautiful book took me to places within myself that I didn't think anyone or anything outside of myself had the power to do. For me, Objects in Motion was more than a love story." – Amazon reviewer
"Objects in Motion is a perfect standalone book in its own right, but, coupled with its counterpart, Beyond the Break, it is absolutely unparalleled." – Amazon reviewer
Get Objects in Motion here: Amazon, Nook, Kobo, iBooks, GooglePlay
Get Beyond the Break here: Amazon, Nook, Kobo, iBooks, GooglePlay
Here at Scary Mommy we truly feel we have the best team of writers on the Internet, and we are bursting with pride for Kristen Mae and her latest release.
Now go get it while it's half off!
Congrats, Kristen! I have no doubt you're about to have another bestseller on your hands.
Editors may receive samples and/or a share from purchases made via links on this page. All opinions are our own.
This article was originally published on