I'm Obsessed With Nap Dresses And I Don't Care Who Knows It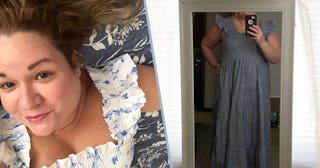 Courtesy of Julia K. Porter
When the pandemic started, while many of my friends vowed to continue to get dressed every day and put on a full face of makeup, I fully embraced leisure wear with a passion that has only been seen thus far in "Bridgerton."
I loved not having to think about outfits for work, putting together the perfect ensemble for social gatherings and trying to figure out who had seen me wear what before. There's a lot of stress that goes into putting together the right look and that stress flew right out the window alongside my calendar in March 2020. Though I love sweatpants, hoodies, and all things tie dye, I love the freedom and comfort of nightgowns. The more old fashioned they look, the more likely I am to already have four of them.
Though I barely make contact with humans other than those that live in my home, it felt strange to be in a nightgown at home during the day (and even weirder when I would just toss a sweater over one to do a Zoom meeting). I didn't feel as put together, no matter that I felt comfortable and was more socially isolated than anyone I know. I knew my pandemic look needed an upgrade, but I wasn't too jazzed about spending my day in my home office in uncomfortable work wear.
I forget where I first saw a nap dress, but it was the literal dress of my dreams. The image that I saw was of a woman laying outdoors in her dress, hair streaming, flowers falling gently around her and the sun shining. She looked beautiful and so did her frock. I knew that I wouldn't look like this as I lack grace, flowing locks, or regular sunshine, but the dress looked soft, frilly, and it also gave the vibe of "Pride and Prejudice" and "Little Women," my favorites. I could throw myself on my bed and be wistful, frolic outdoors, and even layer as the temperatures dropped in hand knits. (I've been knitting for some time, but being at home more has pushed me to be even craftier than before.) As a researcher, I did the only wise thing: I bought the dress. For research.
If there's one thing I've learned through all of this, it's that there's a lot to be said for spending time with our families, cooking lavish meals, crafting, reusing items, and getting back to the basics that we've sworn off in our modern lives for easier, tech savvy short cuts. Life hasn't been easy, and that's okay. There's something about a garment like this that makes me think of a simpler time that I haven't experienced, but have read about and seen acted out through countless hours of PBS' "Masterpiece." My dress made me feel connected to a simpler time, where people made things with their hands and didn't worry about the perfect social media presence.
Though there is snow on the ground, I'm still wearing my sleeveless dress. (I've worn it so much, I invested in another one, as well as other lounge dresses just this week). I'm excited to one day join the world and rock my dress in public, but in the meantime, it's the perfect garment for my life as a working mom at home. I feel comfortable wearing it to virtual meetings and while watching TV at night with the family. It's also the best thing for twirling with my daughter while we listen to her favorite musician, Jojo Siwa.
I know many women that prefer the comfort of dresses and nightgowns, but pandemic or no, it's been frowned upon to spend the day in pajamas. (The more comfortable I am, the more productive I am, but whatever). Even if you only see people virtually, there's a truth universally acknowledged and that's when you get up in the morning, you put on "real" clothes.
I know that the chances of anyone seeing me are slim to none unless I'm in the school pick up line, but there is something about knowing that you're both comfortable and ready for an unexpected guest that soothes me.
The best part of the nap dress? It gives me confidence. Though sweats and pajamas are amazing, the people that demand that we get dressed daily are right: wearing clothes whose purpose is to help you sleep and binge watch shows aren't going to help you to be as productive at work. Since our homes now double as offices, wearing something that can go from couch to desk and back again is wonderful, but I also feel fabulous. When I feel fabulous, I feel confident and when I have confidence, there's nothing that I can't do.
Though you may have heard about these dresses and scoffed at the price or the idea, remember that you'll basically be living in it from this point on, so it's worth the investment. Also, you'll likely keep wearing this after the pandemic, but unfortunately, my sweats are soon to meet their demise having been stretched out, stained, and worn to their limit. I'm hoping soon not to have any use for them, but the minute it's safe to do so, I'll be out in all of my finest gowns, 1920s style — so you better believe, I'll be wearing my nap dress.