We're Totally Obsessed With The Royal Family, And This Is Why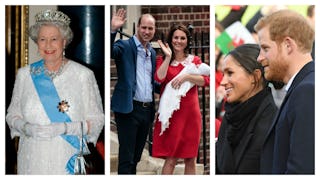 Pool/Tim Graham Picture Library / Getty Jack Taylor / Stringer / Getty Anwar Hussein / Getty
Most of us were kids when Princess Diana died. We might have heard our moms talking about her, or seen all the media coverage. I remember William and Harry walking, with Prince Phillip, behind Diana's hearse and my little girl heart just about broke.
I was young, but I was hooked. We all were.
Sure, there are the arcane rules and protocol. And yes, the monarchy has serious issues. I mean, we fought a revolution to rid ourselves of the monarchy. And yes, it seems to be this oddly American thing to be obsessed with British royalty when most Brits say to bloody hell with all the pomp and circumstance.
But I can't help it.
I am obsessed with the Royal Family, and I make no apologies.
There's a solemn beauty to a crowd of people doffing their hats to sing "God Save the Queen," (you know the tune; it's "My Country 'Tis of Thee"). There's a comfort to the rules and regulations, duty and honor, God and country.
There's the adorably quirky hats, people!
Okay, I'll admit some of us might go a little overboard with our royal family obsession. In fact, I may or may not have the official commemorative china for each newly-minted Windsor, thanks to my equally-obsessed mother-in-law — who gets the magazine Majesty, which is the upscaliest upscale tabloid of all time, and who kindly saves me all the issues.
Like I said, obsessed.
But we're all a little obsessed, aren't we? Maybe you've seen every episode of The Crown or the authorized biography of Prince Charles or William and Kate: A Royal Love Story.
We read news stories constantly, gobbling up every last detail about the Royal Wedding — like how Meghan's dad won't attend the wedding — because it's all so irresistible.
Speaking of Meghan, we eat up all the details of Harry's adolescent antics — especially those delish photos of him in Vegas. We're downright smitten with Meghan Markle, who gets to be his princess like some modern day fairy tale. She's a bit edgier than Duchess Kate. She even holds hands in public (a major no-no, according to royal protocol). Maybe she'll wear something other than nude nail polish, or don wedges in front of the queen (also no-nos). We can't wait to find out!
But it's something else too — for the first time, we're getting a woman of color as a princess. The British monarchy is about to become not the whitest white thing on the whole white world of whiteness. This. Is. Huge.
Royals are spokespeople and sponsors for charitable causes — that's like, their raison d'etre at this point. She can maybe shed light in places where, until now, royal attention has been, shall we say, majorly lacking. If the monarchy is the face of Britain, she can make it more true to the changing composition of the nation. That's gigantic. Not just for Britain, but for a world that needs to see women of color in positions of power.
So yes, I giddily tuned in when she walked down the aisle, with all the pomp and protocol that is the British monarchy. Because I'm obsessed. And I'm not the only one.
This article was originally published on