'Ocean's 8's' Opening Weekend Outperformed All The Other Films In The Franchise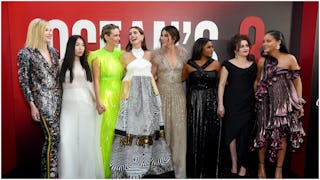 Image via Jamie McCarthy/Getty
Ocean's 8 broke box office records and that's so, so important
Remember that line from Field of Dreams, "if you build it, they will come"? Well, the opening box office numbers for Ocean's 8 beat out the opening box office numbers for all the other Ocean's movies, proving that if studios make female-led action movies, we will come. And we will drops lots and lots of money in the process.
The film, which stars Sandra Bullock, Cate Blanchett, Sarah Paulson, Mindy Kaling, Anne Hathaway, Rihanna, and a handful of other supremely talented actresses, pulled in $41 million during its first weekend in theaters. The rest of the Ocean's franchise have all starred men, and their highest-grossing opening weekend rang in at $39.1 million.
Yup, doesn't take a mathematician to figure out that there's a huge, huge demand for female-led action movies.
Hopefully, this gives studio heads a big kick in the butt to greenlight more projects like Ocean's 8. Especially considering the fact that — of the top-500 grossing films in 2017 — female protagonists only made up a measly 17% of action movies. The stats are even grimmer behind-the-scenes. Relative to men, only 13% of women onscreen worked on action movies in 2017 — which is completely baffling and maddening.
So, yes, we need more women working both in front and behind the camera of action movies. We also need to make sure that the stories being told are honest and smart ones. Olivia Milch, the screenwriter of Ocean's 8, told IndieWire that she really values films that portray three-dimensional female characters — and she thinks that audience members are rooting for the same exact thing.
"I love movies that treat young women and young female protagonists with respect and portray young female protagonists who have self-respect, who are self-possessed, who have ownership over their choices and have agency," she noted. "Even though they're gonna make mistakes and fuck up and they're not perfect. I really do think that that is much more the reality and the authentic experience of most young women, and in part that's why I think audiences are responding to those kind of portrayals."
Obviously, meatier roles and equality on set benefits the actresses as well. Blanchett told USA Today that she wasn't used to being surrounded by so many women at work. "Often you walk on set, and until the hair and makeup people come in, you're the only woman," she said. "So the ratio is 1 to 45? …It was so great to have a fantastic, huge female cast (in Ocean's 8)."
Yup, I will happily drop $15.50 to see Blanchett, Bullock, Kaling, and the whole rest of this amazing cast in action. Honestly, though, I'd probably pay $15.50 to see them do just about anything. Seriously, studio heads, take note.
This article was originally published on