Cate Blanchett And Sarah Paulson Hilariously Lose It On Live TV
by Jerriann Sullivan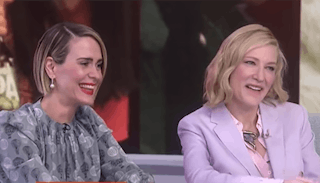 Image via YouTube/Today
Cate Blanchett and Sarah Paulson made Hoda Kotb cry from laughter
Ocean's 8 stars Sarah Paulson and Cate Blanchett provided possibly the funniest interview on live television this year. The actresses were promoting their new film, which opens Friday, but were so hilariously off track that Today show host Hoda Kotb started to cry from laughter. You will too once you see this amazing clip.
It's worth noting that Blanchett and Paulson had been teasing the movie for four hours before they stopped by the Today show, so you can't blame them for being deliriously joyful. Plus, their playful excitement won over the crowd, who can be heard laughing very loudly in the background.
There was never really hope for the journalist who has survived war zones and cancer. The actresses sat down for their interview and immediately went right off the rails. The comedic duo spent their interview time trying to upstage each other with jokes while also swearing that they definitely aren't friends who make each other laugh but instead detest one another. "Sandy [Bullock], I, we all wrote letters saying, 'Please, give her something,'" Blanchett, a two-time Oscar winner, joked about Paulson's Emmy award.
Between mom jokes and teasing about awards won and lost, the actresses brought Kotb to tears. Blanchett called out the Today show host who was crying from laughing so much that her mascara started to run. Thankfully, co-host Savannah Guthrie was nearby and joined the actresses on set, but too was no match for the giggle-fest Blanchett and Paulson were committed to having on live TV. With a lack of seating on set, Guthrie shared a spot with Kotb, which inspired Blanchett to make Paulson a living chair. The ridiculous interview would be cringe-worthy if it weren't hilariously adorable.
Finally, the actresses did comment on Ocean's 8 when asked why people should see the new movie. "We're both in it," Paulson explained. Blanchett responded: "Oh, they kept you in?" The film, an all-woman take on the 2001 hit Ocean's 11, also stars Sandra Bullock, Mindy Kaling, Rihanna, Helena Bonham Carter, Awkwafina, and Anne Hathaway. It opens in theaters this Friday.