Octavia Spencer Bought Out A Whole Theater So Kids Could Watch 'Black Panther'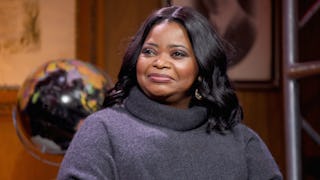 Image via Michael Loccisano/Getty Images
Octavia Spencer is making sure kids can see a superhero that looks like them
If Wonder Woman's record-breaking box office success taught us anything, it's that audiences want representation in movies. Superheroes are not always white men, and kids of all colors and genders want (and deserve) to see a hero onscreen who looks like they do.
Black Panther isn't the first movie ever to bring a superhero of color to the big screen. But it is the first Marvel Cinematic Universe film to feature a black leading character, plus, a cast made up predominantly of people of color and a director who is a person of color. As far as representation goes, that's a big deal. It's so important to get this movie in front of kids who can see themselves in the characters for once.
Enter Octavia Spencer. Spencer, who has become A-list Hollywood royalty after roles in The Help, Hidden Figures and The Shape of Water, is stepping up to make that happen. She just announced on Instagram that when Black Panther hits theaters, she plans to rent out an entire Mississippi movie theater so kids in town can see themselves represented on film.
"I will be in MS when this movie opens," she wrote. "I think I will buy out a theatre in an underserved community there to ensure that all our brown children can see themselves as a superhero. I will let you know where and when Mississippi. Stay tuned. #KingsAndQueensWillRise #blackpanthermovie."
Spencer isn't even the only person to have this idea. Frederick Joseph, from Harlem, New York, has already pledged to rent out a whole theater to send his local Boys and Girls Club to see Black Panther. His GoFundMe page to raise the money needed to book a whole theater hit three times its goal in under a week, inspiring him to start the Black Panther Challenge, which encourages others to run their own fundraisers to send kids to see this movie.
So far, Black Panther's advance ticket sales are outpacing every other superhero movie ever made. Listen up, Hollywood. People want better representation. The world isn't all white, so movies shouldn't be, either.