Disturbing Video Shows Officer Restraining Young Boy With Special Needs
by Thea Glassman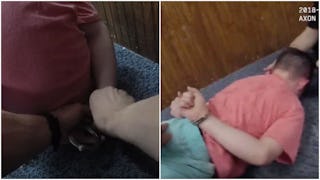 Image via ABC News
A school resource officer restrained and handcuffed a 10-year-old boy with autism
A North Texas elementary school is facing backlash after a 10-year-old student with special needs was restrained and handcuffed by an officer. The whole heartbreaking incident was caught on tape, and the boy's parents are speaking out against the forceful treatment.
According to the Denton police department, a young boy named Thomas, who has autism, was swinging a computer mouse near other children in his classroom. Body cam footage shows Thomas hiding in a cubby when he's pulled out by school resource officer Eric Coulston and taken to an empty room. There, the officer held Thomas face down by the neck, yanked his legs down, and pulled his hands together in handcuffs.
"We're back to where we were the other day," Coulston said. "Want to kick some more?"
It's an incredibly gutwrenching, awful footage to watch — and the actual ordeal lasted about two hours. Thomas's mom, Emily Brown, told CBS that she was flooded with painful emotions when she was first shown the footage.
"Anger, hurt and just lonesomeness," Brown said. "…He's scared. He's got a lot of anxiety because the very people that I told him to trust… he can't." Thomas's dad, Robert Brown, added: "I actually feel helpless for him."
Outrage quickly poured through the internet, with many people pointing out that force was completely unnecessary and the absolute wrong way to treat a child with special needs.
The Denton Independent School District is sticking by Coulston's actions and, after reviewing the incident, the city said that "no violations" occurred.
"We have protocols in place to ensure the safety of all of our students. In this instance, the student resource officer (SRO) made the determination, after all other efforts to de-escalate the situation proved ineffective, that the student was a detriment to his own safety and that of the other students," the school district said in a statement.
Meanwhile, the Browns have pulled Thomas out of school and are considering legal against both the police department and the school district. Thomas is set to start a new school this coming fall and Coulston will continue his job as a school resource officer.
"It's disgusting that this officer is put there to protect and serve our children, and he abused a disabled, little boy," Emily Brown told CBS. "He showed no compassion in that room."