"Oh Sh*t," Say Moms of Charlottes
by Karen Schwartz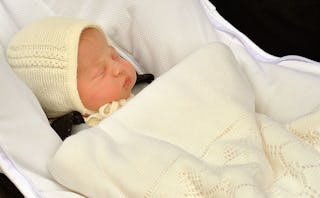 The traditional yet feminine name drew praise from many quarters. But one group met the news with what could best be described as a collective groan: Moms who had also given their daughters that name.
Expectant mothers labor over name choice for far longer than the length of their actual labors. "I thought about it literally every day, multiple times a day, from when I found I was pregnant until after I gave birth," a friend told me.
For a generation of Jennifers, the trick is to find a name that's on-trend but not overused. One that won't draw confused stares or rampant misspellings, but will also avoid the dreaded deployment of a last initial in elementary school.
For many, "Charlotte" fit this bill perfectly—the lesser-known but still-elegant Brontë sister to the years-long juggernaut of "Emma" and "Emily."
But a high-profile baby can cause the popularity of a name to skyrocket. "I named my daughter Emma like three weeks before Ross and Rachel named their damn baby Emma on Friends," one mom recalled. "Now there are like 13 Emmas in her grade."
Other mothers remembered narrowly dodging the last Royal naming bullet. "I was due right around when Prince George arrived," one said. "I breathed a sigh of relief when Kate went first. I crossed George off our list the second they announced."
Perhaps because of the Kristin Davis character on Sex and the City, Charlotte was already a name on the rise.
According to the Social Security Administration, it was the 289th most popular name in 2000, rising steadily every year since to reach number 11 in 2013, the last year for which this data is available.
Adding insult to injury: Chelsea Clinton also named her daughter Charlotte, making it perhaps the de-facto name of political dynasties on both sides of the Atlantic, and leaving little doubt that in years to come, Charlotte will crack the top 10.
But after an initial pang, most moms of Charlottes become sanguine. "It's still a beautiful name," one told me. "I cant blame them for choosing it."
This article was originally published on