Ohio Is Banning The Most Common Abortion Procedure With New Law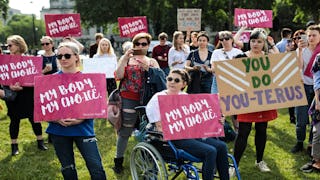 Image via Jack Taylor/Getty
John Kasich signed a Senate bill that bans the most common abortion procedure
Women's reproductive rights continue to be under aggressive attack. Ohio Governor John Kasich signed a Senate bill that bans the most common abortion procedure during second trimester. This is the 20th abortion restricting bill that Kasich has passed since taking office, according to CNN.
Senate Bill 145 was passed last week and bans the dilation and evacuation (D&E) procedure, which is used for about 95% of second-trimester abortions. There's almost no wiggle room with this law. Incest and rape victims aren't exempt and a doctor will only be allowed to perform to procedure if the mother's life is in danger. The bill would ban most abortions as early as 12 weeks gestation.
If a doctor does choose to perform a D&E outside those tight restrictions, then they could face fourth-degree felony charges, which includes prison and fines.
"I'm pro-life," Kasich told a crowd at the Columbus Metropolitan Club earlier this week. "I think the issue, whether you're pro-life or you're pro-choice, is moving in the direction of the earliest the better and not the latest."
Kasich did, however, veto the "heartbeat bill," which would have made abortion illegal as soon as a heartbeat is detected (that can be as early as six weeks into the pregnancy).
Reproductive rights groups are condemning the banning of D&E. Iris Harvey, president and CEO of Planned Parenthood Advocates of Ohio, noted that there are serious fatal repercussions for this new law.
"The method ban dangerously limits people's options, undermines patients' constitutional right to access safe, legal abortion, and compromises medical providers' decision making," she wrote in a statement.
People took to Twitter to slam Kasich's decision and explain, once again for all the people in the back, that a woman has the right to decide whether or not she wants to give birth. They also emphasized that this law will lead to dangerous alternatives to D&E.
Dr. Natalie Hinchcliffe, an Ohio family medicine physician and fellow with Physicians for Reproductive Health, made the excellent point that this decision has been made purely for "political reasons, but not medical reasons."
"Abortion is one of the safest medical procedures, but bans like these only make abortion more inaccessible than it already is to the women and families of Ohio," she writes in a statement. "…I urge our lawmakers to listen to the facts: these bills are an attack on women, on families, and on the freedom and well-being of our state. Please do not put politics before medicine."