First Graders Find Unlocked Gun Belonging To Armed School Official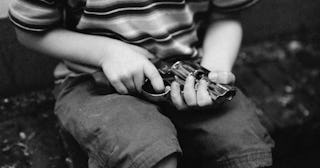 Laurent Hamels/Getty
The gun belonged to a school official and was in an unlocked case left inside a classroom
We've heard the arguments for arming teachers and putting more guns in the hands of security officers or staff onsite at schools, malls, and public spaces to potentially ward off mass shooters, but it's seemed to prove futile in most cases. What those who think more guns are the answer to all of our gun problems might not have considered is what could happen if a concealed-carry permit holder accidentally left their gun unprotected — where kids could find it.
Such was the case at an elementary school in Sparta, Ohio, a small village north of Columbus, where two first-graders found and removed a gun from an unlocked case that was brought to the school as a part of a concealed-carry program, The Columbus Dispatch reported.
The students at Highland Elementary apparently found the gun when the authorized person in charge of the weapon went to the bathroom, leaving it unlocked in the classroom. The incident, which happened back in March of this year, was actually never reported, but came to the public's attention after a debate about the dangers of unprotected guns left in schools occurred on social media.
Luckily in this situation, no one was hurt but this hasn't been the case in previous incidents where concealed-carry gun owners forget to lock up their weapons. Earlier this year, a two-year-old boy died from a self-inflicted gunshot wound to the head after finding a gun inside his grandmother's purse and shooting himself with it. There have also been multiple reports pointing out the dangers of guns in schools, revealing more than 30 publicly reported incidents since 2014 involving guns brought into schools by law enforcement or educators.
The Highland school official and gun owner — a grandmother to one of the students found holding the gun — was suspended without pay for three days and is no longer a part of the district's concealed-carry program. Guns "don't belong in schools," Wayne Hinkle, board president of Highland Local Schools, said.
School boards must, by state law, have safety plans and policies in place in public locations, Thomas Ash, director of government relations for the Buckeye Association of School Administrators said. But school districts don't have to publicize plans for firearm use, said Jim Irvine, president of the Buckeye Firearms Association, who said more schools are adopting concealed-carry programs secretly.
"What happened there was not consistent with the training provided, the policies and procedures or the conditions of being on the (concealed carry) team," Greg Perry, a firearms trainer who helped Highland Elementary set up its training program last year said. "That's a big no-no. It's inexcusable."