Ohio State Tweets About Active Shooter And It's Terrifying
by Valerie Williams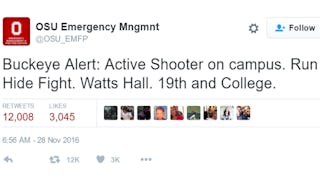 Ohio State campus has an active shooter
There's an active shooter on the Ohio State campus and their Twitter feed is updating live. According to CNN, so far, eight people have been hospitalized for their injuries with one in critical condition. The situation is ongoing, as documented by the school's social media feeds.
The first tweet came out at 9:56 am and the warning is absolutely chilling.
More direction from the OSU Emergency Management department came a few minutes later.
The most recent update was tweeted at 10:35 am.
CNN reports that Watts Hall is the school's materials science and engineering building. OSU student Anthony Falzarano tells the news station, "We heard a lot of sirens. I was in class and everyone got a text message at the same time for the emergency alert. Someone said they heard popping right before we got the alert, but I didn't hear it. We are in a shelter-in-place right now in the building next door. "
Falzarano tweeted a video of police putting up tape and donning presumably bullet-proof vests as the shooter is still on campus and hasn't been apprehended.
He says, "The officers are putting on Kevlar vests and have big weapons. I can't see anyone going inside the building — there's just so many cops here."
Student Wyatt Crosher reports that he and his roommate heard gunshots from across the street followed shortly after by police and ambulance sirens. "We can't see the building where the shooting happened because of a dorm blocking our view. It truly sounded like gunshots, and really soon after we heard a bunch of sirens. We can see the police cars from our dorm."
The Twitter account of the school's newspaper reports that students have been moved away from the scene as police continue to investigate.
Ohio State has more than 65,000 students and our thoughts and prayers are with every single one of them. We will update this article as we learn more.
UPDATE: One suspect has been killed by police, as reported by CNN. Law enforcement is working to make sure there are no additional suspects.