Preschool Teacher Caught Dragging Student Down A Hallway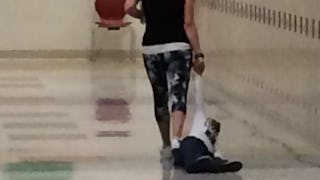 Image via Twitter
An administrator took the photo after catching the teacher in the act
Handling a classroom full of kids isn't an easy job, and it's understandable that teachers might get frustrated every now and again. However, there's a right and wrong way for a teacher to handle disciplining a student, and dragging them down a hallway is definitely never the answer.
CNN shared the story of a teacher at an Ohio school getting fired after being photographed dragging a student down the hallway by his arm.
Neither the teacher nor the student have been identified, but she was employed by the Alta Care Group, a non-profit organization that provides staff for the Youngstown school's early education program. To their credit, the teacher was terminated immediately.
Alta Care's CEO Joe Shorokey released a statement. "We took this matter very seriously. We took action immediately. We apologized to the parents, as well as to the community."
He didn't identify either of the people involved, but he did confirm that the student was in the school's Head Start program that services students between the ages of three and five.
"I want to make sure it is clear that the individual who was terminated does not reflect the values of the dedicated and skilled professionals at Alta Head Start," Shorokey said in his statement. "These fine teachers and aides should not be unfairly portrayed as anything less because of the person who was terminated."
A Youngstown teacher, currently working as an administrator, took the photo.
Anyone who deals with classrooms full of young children every day has to rank among the most patient human beings on earth. I don't envy their job. But it is a job. Regardless of their temperament, they get paid to not only educate these kids, but to take care of them, particularly when they're five and under. Most of them do, and then some.
There are countless stories of them selflessly putting themselves in harm's way to protect their children, and going above and beyond for the benefit of their students.
Even in the face of our school system getting scarier and scarier, teachers are at the front lines, standing up for and defending our kids every chance they get.
We trust them with our children, which is what makes incidents like this so appalling.
It's reassuring for parents that the school moved so quickly to terminate the teacher; someone who would treat a child like that should not be working in a school. Thankfully, the overwhelming majority of teachers take excellent care of our kids, so the bad apples stand out.
Especially when there's photographic evidence.
This article was originally published on