New Oklahoma Law Can Protect Drivers Who Run Over Protesters
by Julie Scagell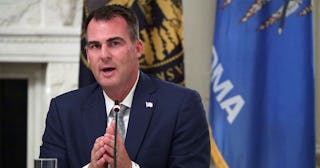 Alex Wong/Getty
If a protester blocks a public roadway this Oklahoma bill says they can be harmed with no consequences
Oklahoma Governor Kevin Stitt signed a bill this week that would grant civil and criminal immunity to drivers who are "fleeing from a riot" and unintentionally injure or kill a protester in the process. Yes, you read that right.
The bill, House Bill 1674, signed by Stitt, Rep. Kevin West, R-Moore, and Sen. Rob Standridge, R-Norman also seeks to stiffen penalties for demonstrators who "block public roadways," according to the Oklahoma State Legislature. The state Senate passed the legislation 38-10 last week.
"I certainly support the right to peacefully protest and assemble," West said. "I will not, however, endorse rioters that spill onto city or state streets, blocking traffic and even harming property of vehicle operators who are simply trying to move freely. This law gives clarity to those motorists that they are in fact within their rights to seek safety."
No word was given as on how they are discerning between a "riot" and a "protest" but you can use your imagination.
Anyone who is seen obstructing a public street during the course of a protest will be punishable by up to a year in prison and a $5,000 fine according to the legislation. Drivers cannot be held criminally or civilly liable for killing or injuring a protestor if there is "reasonable belief" that they felt as if they were in danger.
This comes on the heels of Florida Gov. Ron DeSantis signing sweeping legislation that made existing laws governing public disorder harder and a bill he's called "the strongest anti-looting, anti-rioting, pro-law-enforcement piece of legislation in the country."
"This is consistent with the general trend of legislators' responding to powerful and persuasive protests by seeking to silence them rather than engaging with the message of the protests," said Vera Eidelman, a lawyer at the American Civil Liberties Union.
The ACLU of Oklahoma told The Oklahoman it is in "serious conversations" with its partners on protecting the right to free speech. "The power of protest belongs with the people, and we will not tolerate these attempts to silence Oklahomans," said Nicole McAfee, the group's director of policy and advocacy.
"We are sending a message today in Oklahoma that rioters who threaten law abiding citizens' safety will not be tolerated. I remain unequivocally committed to protecting every Oklahoman's First Amendment right to peacefully protest as well as their right to feel safe in their community," Stitt said.
But many disagree. Adriana Laws, founder of the Collegiate Freedom and Justice Coalition, said the Oklahoma Legislature, said of the bill: "They are targeting groups of protestors who are just wanting to use their freedom of speech, passing bills that will intimidate them in the hopes of keeping people from using their First Amendment rights, passing bills that decriminalize the murder of protestors, which is absolutely insane," she said.
Being inconvenienced because a road is being blocked in no way gives a driver the right to run someone over. This is a horrifically frightening prospect spewed from fear and a need for control over a global social justice movement.
HB 1674 takes effect Nov. 1.