Teacher's Post About Her Classroom's Broken Chairs Spurs Landslide Of Donations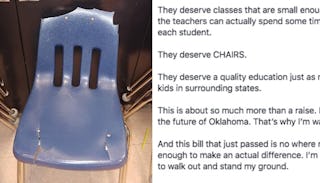 Image via Laurissa Kovacs
After an Oklahoma teacher said she didn't have school supplies, the internet saved the day
When Laurissa Kovacs, an art teacher in Oklahoma, took to Facebook to discuss her classroom's heartbreaking lack of supplies, strangers across the country decided to take action. Big time action. $44,000 worth of school supplies have arrived for Kovacs — and I'm not crying, you're crying.
Last week, Kovacs decided to publicly share why she's joining in Oklahoma's teachers strike. She explained that she's earning $27,732 a year, her classroom is stuffed to overcapacity, and there's barely enough supplies to go around. That includes chairs. Yup, some students literally don't have a place to sit — and the chairs that are in the classrooms are pretty much completely broken. See below:
"This chair, or cheek-pincher, is what my students have to sit on," she wrote. "Most of the chairs in my room look like this. Once they get to this point it's only a matter of time before the bottom goes completely out."
Kovacs added that her students deserve so, so much better than what they're getting right now. "They deserve teachers who are qualified to teach. They deserve classes that are small enough that the teachers can actually spend some time with each student. They deserve CHAIRS," she said.
Well, the internet heard her loud and clear. Just a week after Kovacs published her post, $44,000 (!!) worth of supplies have been donated to her classroom. It came as a complete shock to the art teacher. "I'm feeling overjoyed and overwhelmed," she told Scary Mommy. "It's amazing."
Is your belief in humanity officially restored? I mean, just LOOK at all those packages.
Kovacs took to Facebook to send a big, big thank you to everyone who donated to her classroom.
"Words cannot explain the range of emotions I have felt over the past 48 hours," she wrote. "… My post about why I'm walking has gone viral with over 40K shares so far. That has resulted in hundreds of messages of support and encouragement as well as THOUSANDS of dollars worth of chairs and supplies."
Kovacs told Scary Mommy that she plans to share her overwhelming amount of new supplies with the rest of the school district. Here's to all these amazing Oklahoma teachers who are doing everything they can for their students, and to all the kind strangers who are doing their part too.