Old Navy Launching Free Bootcamp To Find More Diverse Santas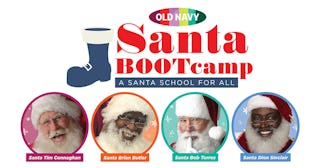 Old Navy
Old Navy is launching a free Santa bootcamp to encourage more more diverse applicants to get into the Santa game
For as long as Santas have existed, they have primarily been portrayed by jolly white men with white hair. Despite Santa's global influence, it's well overdue for Santa to look more like the many varied communities that he serves. To help rectify this, Old Navy is launching a Santa BOOTcamp to train diverse Santa candidates so they can go out and get Santa jobs and diversify the Santa community.
Per Old Navy, "Diversity is a challenge in the Santa industry — less than 5% of all professional Santas in the U.S. identify as people of color, while almost half of children under the age of 15 in the US identify as non-white."
To help make Santa more representative of modern-day culture, Old Navy has launched their Santa BOOTcamp, which is a virtual training course to teach a new generation of Santa hopefuls how to be Santa
"[We encourage] participation from all backgrounds, ethnicities, and cultural heritages and invite any person who wants to play the role of Santa this year — professionally, in their community, for their family — to sign up," Old Navy said in a statement.
Learning to become Santa takes some training
"In the 30-minute virtual course, trainees will learn the fundamentals of becoming Santa, including how to respond to kids' frequently asked Santa questions, key phrases in both sign language and Spanish, and tactics for how to take the perfect photo," the company shared. "Old Navy partnered with veteran Santa Timothy Connaghan, founder of School4Santas and owner of one of the largest Santa booking agencies in the U.S., to develop the immersive course."
Being Santa is involved, but as Connaghan explains, "it's not the red suit or white hair and beard that create holiday magic, it's what you have in your heart. A good Santa should spread joy and exude the holiday spirit, regardless of their appearance."
Joining Connaghan in the online Santa course are fellow professional Santas and School4Santa graduates: Dion Sinclair, known as Santa Dee or "The Real Black Santa," Bob Torres, a seasoned bilingual Santa who has been in the industry for 38 years, and Brian Butler, known as "Soulful Santa."
Also, Old Navy will also be casting a range of diverse Santas to appear in its flagship stores in New York City (Herald Square), San Francisco (Market Street), and Chicago (State Street) for socially-distant photo ops on Saturday, December 4.
Interested Santa applicants can inquire here. It's free, open to all, and will take place online on Friday, November 19.