Old Navy Makes Political Statement With Purple 4th Of July Shirts This Year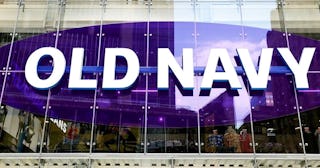 Old Navy/Instagram
The purple shirts are part of Old Navy's new campaign: #BelongingLooksLike
The Old Navy flag shirt is classic and iconic — almost everyone in America has worn one at least once in their lives. This year, the recognizable shirt got a makeover as part of a new campaign: they're purple. Why? Because that's the color you get when you mix red, white, and blue together. By combining the colors of the American flag, Old Navy wants us to know that we're all one people.
"Old Navy's iconic, Americana red, white and blue flag tees have been a staple in American households since 1994, but this year, the limited-edition purple tees are meant to celebrate and promote belonging," the company said in a press release. "A reminder that we are one nation, indivisible, not defined by the current labels of 'red' and 'blue.'"
The shirts themselves are purple, and yes, they still feature the American flag original design. The slogan "25 Years of Belonging" can be found on the front, while the back displays an equally important message: "Belonging Has Never Been A Trend."
In addition to releasing these shirts, Old Navy is also promoting inclusivity by partnering with Open To All, a campaign that encourages businesses to be open to all people regardless of gender, race, or sexuality. They've donated $25,000 to the campaign, and will turn the Old Navy logo purple until the 4th of July.
There's no denying we're living in extremely tumultuous and divisive times in the United States right now, and there are plenty of reasons why good-hearted Americans may not be feeling the patriotic love this year. What's great about Old Navy's stance here is that they're promoting unity without promoting "both sides-ism" and pretend all our country's problems can be solved if we just meet in the middle. When families are being separated, toddlers are being caged and tortured, and plenty of people fear for their lives every day in this country due to their sexual orientation, race, or immigration status — there is no middle ground.
President and CEO of Old Navy Sonia Syngal says in a press release, "One thing is certain, we will never stop believing that Old Navy can be a place where customers and communities feel a sense of belonging — and do our best to make that so. Our doors are open for everyone, and also open for ideas, open for love, open for differences, open for dialogue, and open for change."
Lots of people are hopping on board to sport the purple Old Navy t-shirt this summer.
Everyone's favorite Queer Eye therapist, Karamo, is even getting in on the action.
https://www.instagram.com/p/BzJyDy_FJWF/
But with all well-intentioned things (especially of the patriotic variety), there are the naysayers.
Uh-huh. Okay then.
The new purple shirts are available now on Old Navy's website, but there's a limited supply — only 1,994 of them, to be exact. The store debuted as a brand in 1994, so these shirts are, in fact, a special edition. They're also only $5, so get your mouse and your debit card over to Old Navy and snag one while you still can.
This article was originally published on