Olivia Munn Says 'Predator' Cast Shunned Her After She Spoke Up About Sex Offender Actor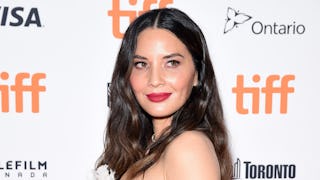 Image via Presley Ann/WireImage
The way Olivia Munn is being shunned by her male castmates and director will make your blood boil
The Time's Up movement may have originated in Hollywood, but this story surrounding Olivia Munn and her new film, The Predator, proves the movement still has a long way to go among those within the film industry. Why? Because there is absolutely nothing okay about the shitty way Olivia Munn is being treated by her fellow cast members and her director after she spoke out against working with a registered sex offender — resulting in his scenes being cut from the final version of the film.
Last week, it became public knowledge that a scene featuring registered sex offender, Steven Wilder Striegel, who is also a personal friend of the film's director, Shane Black, was removed from the film. Black didn't tell Munn about Striegel's record prior to having them film the scene together, and once Munn became aware of Striegel's disturbing record, she alerted the movie studio. They eventually removed him from the film and had his scenes cut.
Striegel served six months in jail after pleading guilty to two felonies — risk of injury to a child and enticing a minor by computer. He engaged in lewd, predatory email exchanges with a 14-year-old girl, and the details of his child abuse, which you can read here, are absolutely horrifying. Black attempted to justify his reasons for hiring his friend — as bros are wont to do — but Striegel's actions speak for themselves. Munn and everyone else on The Predator set should not have been subjected to working with him without knowing about his criminal, abusive history.
One would think Munn would be hailed for her bravery in coming forward, and standing up for herself and her right to work in a safe environment as well as standing up on behalf of victims of sexual misconduct everywhere. But that doesn't appear to be the case — at least not with her fellow castmates this weekend.
She's currently promoting the film at the Toronto International Film Festival — because she's contractually obligated to do so — and says she's been isolated throughout the entire promotional tour.
Her two male costars, Trevante Rhodes and Augusto Aguilera, sat next to Munn during an on-camera interview regarding the incident. Color me not at all shocked that they immediately derailed the conversation and defended director Shane Black's decision to bring a sex offender on set to work opposite Munn without telling anyone.
"The first thing I thought of wasn't about Shane at all" and "I'm disappointed in the situation" are really just two different ways of saying "I don't support Olivia, I don't support her right to a safe working environment, and I am an asshole."
Munn refuses to back down, regardless of the cowardice displayed by her male costars.
Munn ends the interview by saying, "I spoke up the same way that I would hope somebody would speak up for me if I was a 14-year-old girl."
After the interviews above, a majority of the cast members bailed on doing further interviews — presumably because they were uncomfortable talking about the incident. So Munn was left to do interviews solo. Shunned by people who should be supporting her.
Munn's former costar from The Newsroom, Thomas Sadoski, publicly shows he has her back. So that's one guy who's not a complete and utter asshole.
Her response on Twitter proves Munn is a hero who doesn't need a cape. "On something like this — where a child has been hurt — my silence will never be for sale. And if it costs me my career they can take it."
The same goes for Sterling K. Brown, who co-stars with Munn, but was unable to attend TIFF. He spoke out on Twitter in support of her.
He went on to say the cast has the right to know who they're working with, especially when it's someone who has been convicted of a crime against a child. "Our studio was not given that opportunity, and neither was our cast. Especially Olivia Munn, who was the only member of the principal cast who had to work with him. I so appreciate that you 'didn't leave well enough alone,' and again, I'm sorry you feel isolated in taking action."
Here's the bottom line in all of this — Olivia Munn shouldn't be left flailing in the wind solo while the rest of her cast does the easy thing, which is to avoid talking about it. That is not a good look. It doesn't matter that she was the one filming with Stiegel, or the one who went to the studio about it. She should feel supported by those around her because what she did was the right thing to do.
The fact that she's paying a price for doing so, and must talk about the effect this will likely have on her career, is the exact opposite of what Time's Up and Me Too are striving to achieve. The only cast member who didn't completely shun her at TIFF was 11-year-old Jacob Tremblay. Who is a child. Who unknowingly appeared in the same film with a child predator. Let that sink in.
During her interview with The Hollywood Reporter, she says she believes real change in these movements doesn't come from the people "at the top." She feels it's the people at home and online who will keep the momentum going. "The people who are at the top, the people colluding to keep abusers in power, the people who are colluding to turn a blind eye so that they can keep making money, they are the people who created this disparity in the first place."
This article was originally published on