Olivia Wilde Announces Her Pregnancy In The Cutest Way, Ever
by Maria Guido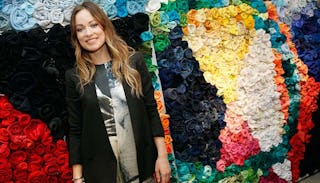 NEW YORK, NEW YORK - APRIL 04: Co-Founder of Conscious Commerce Olivia Wilde poses at H&M Conscious Exclusive event at H&M Showroom on April 4, 2016 in New York City. (Photo by Brian Ach/Getty Images for H&M)
Olivia Wilde announces second pregnancy with adorable Instagram photo
There are a lot of pregnant celebrities right now. Kelly Clarkson and Chrissy Teigen just gave birth, and Blake Lively, Eva Mendes, Ellie Kemper, Megan Fox, Ginnefer Goodwin, Liv Tyler, Kerri Russell are all pregnant. And that's not even a complete list. There's been yet another announcement this week, complete with an adorable photo.
Olivia Wilde and partner Jason Sudeikis are expecting their second child together. Wilde shared the news on Instagram yesterday with the cutest picture.
Wilde and her two-year-old son Otis are both holding their bellies with the caption "matching baby bumps." Preparing an only child (and a young one) for the arrival of a sibling is not easy. You never know how they are going to react — or how you're going to react, for that matter.
I remember feeling enormous guilt at the end of my second pregnancy, that I wasn't going to be able to focus solely on my first child anymore. It's such a strange feeling when you're waiting for a baby that you haven't met yet. It's hard to describe — and probably sounds weird — but I had this allegiance to my already-born child. I was almost viewing number two like this totally loved and wanted outsider who was raining on our parade. Those moments alone with your "only" child when you are awaiting number two are pretty special.
If this photo is any indication, Wilde is making the most of those moments. Congratulations!